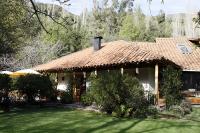 Lodge Andino
Location
Cajón del Maipo (Central Andes and wine valleys, Chile)
Description
A delightful family run lodge surrounded by walnut plantations right at the end of the Cajón del Maipo. Perched at the foot of the mountains, Lodge Andino prides itself on service and specialises in excursions into the surrounding Andes. At the heart of the lodge is the original colonial style villa that houses the living and dining room while patio doors open onto the pool and spacious gardens. Other facilities include a hot tub and shaded hammock area and each evening, weather permitting, guests gather at the terrace for an outdoor asado.
Activities
Hiking, riding, rafting, skiing
Accommodation
There are 9 rooms in total, 5 standard rooms in the original house and 4 spacious superior rooms in their own modern blocks out the front.
Our comments
A charming lodge in easy reach of Santiago and ideally positioned for heading into the Andes. The mountains themselves are very different to those in the Lake District or further south and this is an excellent option for people looking to avoid the busy capital at the beginning or end of a trip.
Client comments and reviews
Lodge Andino is a wonderful boutique hotel at the base of the Andes and it was a beautiful 2 hour drive getting there. We had one of the 4 new rooms that have been built within the grounds and they are absolutely stunning (very large and private) and personally we felt they were a better option than the rooms in the main house. Great food and superb service from the manager. She also owns 100 horses and 50 mules and you can ride, trek and even zip wire if you wish! - JD (January 2012)