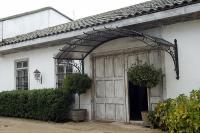 Casa Silva
Location
San Fernando (Central Andes and wine valleys, Chile)
Description
One of the oldest vineyards in the Colchagua Valley, Casa Silva is 2 hours south of Santiago just off the main Route 5 highway and only opened its doors to guests in 2004. The boutique hotel is at the heart of the estate and was originally the old family home, a traditional, single story colonial house with rooms surrounding a small cobbled courtyard. The hotel still incorporates the original cellars but now features an excellent restaurant open to the public and a small pool. The décor is warm and friendly with period furniture, family portraits and heirlooms throughout.
Accommodation
There are 7 spacious rooms comprising of a mix of singles, doubles and twin.
Our comments
Warm and friendly with excellent food and wine though just off the main Ruta 5 highway.