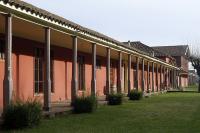 Casa Donoso
Location
Maule Valley (Central Andes and wine valleys, Chile)
Description
A small, charming guesthouse on the estate of the boutique winery Casa Donoso some 3½ hours south of Santiago. The vineyard is set well away from the highway along a bumpy track and is surrounded by vines with wonderful views of the distant Andes and the Descabezado Volcano. Built in the traditional colonial style of the 19th century with rooms around a central courtyard, Casa Donoso is rustic but comfortable with warm, homely décor.
Activities
Riding, tours to the winery and nearby Andes.
Accommodation
There are only 3 rooms including a larger family room.
Our comments
Quite a distance from Santiago but a lovely rustic vineyard in a privileged position.