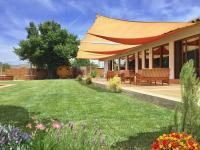 Casablanca BCW
Location
Lagunillas (Central Andes and wine valleys, Chile)
Description
A charming small hotel in the town of Lagunillas, just over an hour west of Santiago and 30 minutes from Valparaiso. The original building dates back to the late 18th/early 19th century and has been beautifully renovated maintaining many original features. There is a restaurant, an outdoor swimming pool, two hot tubs and a sauna.
Activities
The property is in the heart of the Casablanca valley and is surrounded by vineyards producing Pinot Noir, Sauvignon Blanc, Chardonnay and Merlot grapes. Guests can explore the area by renting a bike or following one of the hotel trekking maps. The staff are happy to help with organising excursions to nearby vineyards or guests with a hire car can explore at leisure - maybe even venturing to the coast (Isla Negra is a 40 minute drive away).
Accommodation
The 10 rooms all vary slightly, measure 25 square metres and have polished wooden floors. They either have either a kingsize double or twin beds and some rooms also have an extra bed and can accommodate a family. All rooms have a private bathroom with colourful tiles, a couple have a fire place and some have a terrace.
Client comments and reviews
Run by Rodrigo and Lucia, who are exceptionally nice people. Rodrigo speaks very good English having been largely brought up in Australia. A very good experience: excellent food, an interesting selection of wines selected by Rodrigo himself, who is an enthusiast; swimming pool, hot tub, very comfortable rooms, well located for visiting vineyards. - WP (December 2018)