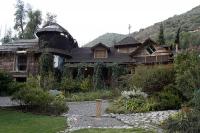 Hotel Altiplanico San Alfonso
Location
Cajón del Maipo (Central Andes and wine valleys, Chile)
Description
A stylish, boutique hotel overlooking the Maipo river surrounded by towering mountains. The hotel is very private, set back from the road just outside the tranquil village of San Alfonso and was originally conceived as a weekend retreat from Santiago. There is a small pool and jacuzzi while inside, the main building houses the sitting area, bar and restaurant which opens onto the garden. The décor is modern and funky, tastefully designed and featuring a number of well considered ethnic pieces.
Activities
There are all manner of treatments and excursions can be arranged into the mountains.
Accommodation
There are 9 rooms in total, 5 small standard rooms in the wooden main house and 4 larger, more comfortable rooms in the newer block overlooking the garden and river.
Our comments
A lovely romantic hotel, ideal for honeymoons, designed for short stays to avoid the hustle and bustle of Santiago. There are a number of colourful peaks overlooking the hotel and as the sun goes down, the light picks out the different, coloured strata within the rock – beautiful! The hotel is popular for functions though not so geared to exploring the mountains of the Cajon del Maipo.