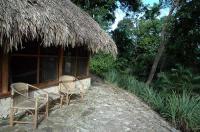 Nitun Lodge
Location
Lake Petén Itzá (Petén and the North, Guatemala)
Description
On the north shore of Lake Petén Itzá, the property has a handful of individual stone and wood-built cabins with traditional palapa roofs. There is an open kitchen, dining and bar area.
Activities
There are a lot of birds and other wildlife, and it is possible to swim in the lake. The hotel has kayaks and paddle boards for guests and run trips to near-by sites.
Accommodation
All rooms are large and comfortable with rustic decor. Some have terraces with views over the lake.
Our comments
A lovely, tranquil place to stay with friendly, helpful owners.
Client comments and reviews
Nitun was a lovely place, though I've never been anywhere with less information. It was a really relaxing place to be and suited the end of our holiday, but would have frustrated us at the start. The food was good but so pricey. - AD (February 2007)
We loved Nitun Lodge and Bernie and Lore plus their assortment of parrots, dogs, geese and hummingbirds. Our day trips were great - the food was completely outstanding, and the picnics we took to the Parks were amazing - full scale meals with tablecloths! - MC (May 2005)