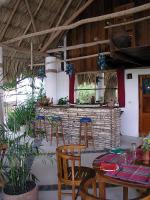 La Lancha
Location
Lake Petén Itzá (Petén and the North, Guatemala)
Description
A Francis Ford Coppola property on the northern shore of Lake Peten Itza, with Guatemalan textiles and lots of character. There is a pool and a restaurant serving traditional Guatemalan fayre.
Activities
From here you can visit the archealogical sites of Tikal and Yaxhá.
Accommodation
The jungle casitas are the original rooms, and are slightly nearer the restaurant. The newer casitas are larger, semi-detached with a wide veranda and have lake views.
Our comments
The staff are friendly and service is personal.
Client comments and reviews
La Lancha was the perfect ending to the holiday. - DS (February 2007)