Caves, rivers and the Pacific and Caribbean coasts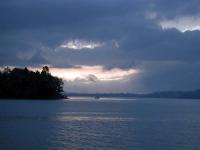 North-east of Guatemala City are the limestone hills of the Alta and Baja Verapaces, full of caves, rushing rivers, and the extraordinary Semuc Champey, where one smaller river flows on a natural limestone bridge over another larger one. The roads are twisty, but if time allows a visit to this region is very rewarding. If you are lucky, you may even see the elusive quetzal, the country's national bird.
The Caribbean coast is 300 kilometres from Guatemala City, linked by the busy Atlantic Highway. The two principal coastal towns are Puerto Barrios, the main port, and Lívingston. The latter is home to the Garifuna population, descendants of escaped African slaves and Caribs, and is best reached down the beautiful gorge of the Rio Dulce. A boat provides a link to Punta Gorda in Belize.
The short Pacific coast (with mainly black sand) does not have the beaches to compete with the Yucatán, but it does have some surf, nature reserves, and a few unusual archaeological sites. It is generally visited for deep-sea fishing or bird watching.
Our preferred accommodation
Lodge/Hosteria - Fronteras

A riverfront property built on the River Dulce just downstream of Fronteras. There is an attractive bar over the river and a large restaurant and pool.

Inn/Posada - Coban

A simple hotel in an old colonial house near the main square. It is a comfortable base from which to explore the region. There is a good restaurant and a small cafe overlooking the central plaza.

Beach hotel - Lívingston

The hotel is between the Rio Dulce outlet and the Caribbean sea. It overlooks the village and sea and has a good restaurant (excellent seafood, especially camarones), pool and bar.