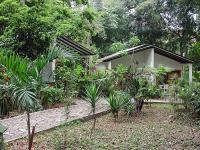 Jungle Lodge
Location
Tikal National Park (Petén and the North, Guatemala)
Description
This hotel is the nearest to the ruins inside the boundaries of the national park, perfect for watching the sunrise and sunset. There is a good sized pool and a restaurant.
Activities
The ruins of Tikal are just a 10 minute walk away.
Accommodation
Simple rooms are in cabins around the gardens, with a small outside porch and ceiling fan.
Our comments
A simple hotel, but in an unbeatable position.
Client comments and reviews
All the hotels were delightful except for the Jungle Lodge at Tikal. This is an historic hotel in a superb, and very convenient, location. However, there seemed to be a management problem. My bungalow was a bit grubby and I was warned not to eat raw tomatoes etc there. The group tour was also a bit of a shambles as we were a mix of nationalities with no common language, so explanations took some time and had it not been so we would have had time to learn more about each ruin and also had time to see more ruins. - DP (January 2013)
Jungle Lodge was fine, just as you said, a bit basic but such an ideal situation we wouldn't have swapped it for anywhere else. Tikal was wonderful, and being able to walk in early in the morning when it was empty was great. I climbed Temple 2 on the Grand Plaza at Tikal early one morning and I was the only person there for the whole time, and the only other person I could see was my husband who was watching a procession of parrots, toucans etc coming to a fruit tree. Even in the early morning I did not expect to get the whole place to myself! It must have been half an hour before anyone else turned up- another reason for staying at the Jungle Lodge. - AD (February 2007)
The restaurant staff were very helpful but could have been better trained. For the group tour of Tikal, we had a very good guide with a wide range of knowledge. Very considerate to the less mobile. - JW (January 2007)