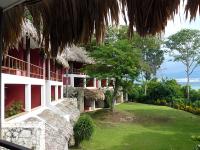 Camino Real
Location
El Remate (Petén and the North, Guatemala)
Description
Approximately 30 minutes from Flores at the eastern end of Lake Petén Itzá with lovely views. There is a small indoor, and a large outdoor pool and it is possible to swim in the lake.
Activities
On site they have bird watching, fish and turtle feeding, kayaks and many self-guided trails. They also arrange trips to Tikal.
Accommodation
There are around 80 rooms, all with a lake view. The best rooms have balconies.
Our comments
A good mid-range option.