Jesuit missions and national parks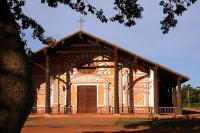 Santa Cruz is the southern gateway to the Amazon and the famous Jesuit missions of Chiquitano, dating back to 1691, seven of which survive. Every two years a marvellous festival of baroque music is held here. South-west of Santa Cruz, at Samaipata, is the enormous sculptured ceremonial site of El Fuerte, of Inca or even Amazonian origin: a series of channels and religious symbols carved out of one vast slab of rock. Close by is the southern edge of the Amboró National Park, with an incredible diversity of plant and animal life.
Our preferred accommodation
Inn/Posada - Concepcion

On the main square in town, in an old colonial house. Decorated with regional artefacts, there is a pretty courtyard and a pool.

Inn/Posada - Concepcion

A small hotel just outside Concepcion. There are lovely gardens (including an orchidarium), pool and good restaurant.

City hotel - Santa Cruz

A 5* hotel in the residential neighborhood of Equipetrol, just 15 minutes from downtown Santa Cruz.