High-altitude salt flats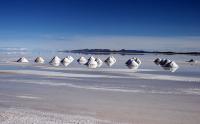 Towards the south-western tip of the country, bordering Chile and Argentina, is some of Bolivia's most captivating scenery. This is an area of barren landscapes, distant mountains and tiny colonial towns under huge aqua-blue skies. The highlight is the Salar de Uyuni, a dazzling salt lake of white hexagonal salt crystals stretching out to the horizon. Almost as impressive are the bizarre rock formations and high-altitude lakes which border Chile and the multicoloured canyons of Tupiza further south.
Our preferred accommodation
Inn/Posada - Uyuni

A small friendly hotel in the heart of Uyuni, with a large reception and small restaurant.

Lodge/Hosteria - Salt flats

Just on the edge of the Uyuni salt flats and 7km from Colchani. The main structure of the hotel is built entirely from blocks of salt, but the roof is thatched and the corridors have salt gravel too.