Colonial history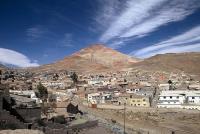 The beautiful 'white city' of Sucre is Bolivia's legal capital, a thriving university town with stunning architecture and fine museums and buildings. A long dusty road takes you to Potosí, at 4,090m the highest city in the world and a living reminder of the tragic legacy of the Cerro Rico mine. Once the jewel of the Spanish conquest, helping to fund Europe's industrial revolution, Potosí is now a fascinating shell of cobbled streets, colonial architecture and countless churches.
Our preferred accommodation
City hotel - Sucre

Simple hotel but full of character. Wonderful courtyards and large rooftop terrace for fantastic views of the city.

City hotel - Potosi

A colonial style hotel in the historic centre of the town with good views of the Cerro Rico mine as well as the Convent and church of San Francisco.

City hotel - Sucre

A small boutique hotel just a short walk from Sucre's main square, in an old colonial house that has been beautifully restored with a mix of indigenous and Spanish architecture.