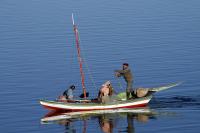 North of La Paz, straddling the border with Peru, lies Lake Titicaca, sacred to the Incas. It is formed by two lakes, Huinamarca and the larger Chucuito, which contains the legendary Islands of the Sun and Moon from which, according to myth, the Inca civilisation emerged a thousand years ago. Trips to the islands run from the pretty lakeshore town of Copacabana and it is worth spending a night in the simple lodgings on the islands to explore some of the Inca ruins and enjoy the panoramic views.
Our preferred accommodation
Lodge/Hosteria - Puerto Perez

Swiss owned small hotel right on the lake shore, with wonderful views of the Bolivian snow capped mountain ranges. Beautiful at sunset!

Estancia/Ranch - Island of the Sun

A simple, rustic but comfortable lodge at the southern end of the Island of the Sun with great views over Lake Titicaca towards the Cordillera Real.