I was excited to be seeing some of the lesser-visited areas of the country on this, my fourth trip to Costa Rica. The journey was very much focussed on the eastern section that spans the Caribbean in the north to the Pacific in the south, and from San José in the west to the border with Panama in the east.
I spent 12 days journeying from north to south, the days kept busy hiking, rafting or birdwatching; and although my visit coincided with the start of the 'green' (aka rainy!) season, it certainly didn't dampen spirits. We also visited a couple of archaeological sites, which are little known in this land of wildlife.
Some may ask whether there is really an 'off the beaten track' Costa Rica, and I'd argue that there is. We had so many places to ourselves on this trip, and that is rare anywhere these days.
The following are just a few of my highlights.
Lirio Lodge, Tortuguero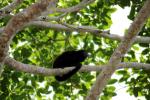 Howler monkey
A 5am start on day one was not overly welcomed but it meant we escaped San José early and stopped off for the most amazing breakfast before continuing our journey to Goshen dock on the canals of Tortuguero. I had been to the main canal section previously, many years ago, but this was a different experience altogether and by entering the canals further east than other groups we really did have these waterways all to ourselves. We visited a turtle project and took a hike through the forest. The boat journey itself was certainly the highlight: we saw wildlife including howler monkeys, herons, bats, kingfishers, turtles, and crocodiles. On our hike we saw frogs, white-faced capuchin monkeys, a fer-de-lance and a group of nesting agami - a rare bird that is a relatively new arrival to the area. Our home for the night was the lovely Lirio Lodge - a simple affair on the canals but with wonderful traditional Caribbean cuisine and friendly staff (and lots of crabs and toads around the gardens).
Pacuare Outdoor Center, Turrialba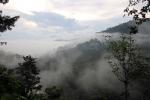 Pacuare forest
I had been very lucky to have rafted down the Pacuare river before and was very much looking forward to doing so again. I had previously stayed at the beautiful Pacuare Lodge, which I wouldn't hesitate to recommend. This time I was staying at a neighbour upstream: the Pacuare Outdoor Center. Despite its simplicity I loved it just as much and the bonus for me is that although it's a ten minute hike up to the lodge from the riverbank, the views are the ultimate reward: I could have sat for hours birdwatching and admiring the view from my bungalow. Being a more budget option, the meals are simpler and prepared by the rafting team, but there is a real camaraderie to the place and everyone is made to feel welcome. To stay here you must be a group of at least 4 people, so this could be perfect for families or groups of friends travelling together. Note that the rafting is generally from age 12 and above, though in the height of the dry season it is sometime possible for younger children (8+) to raft. Staying a couple of nights means guests can make the most of the on-site activities - there is a zipline, Tarzan swing and a waterfall nearby.
Aquiares Coffee Estate, Turrialba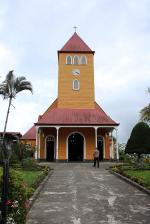 Aquiares church
The Aquiares Coffee Estate was founded in 1890 and its name means 'land between rivers' in the native Huetar language. It is possible to visit just for the day but the real experience is to stay at the farmhouse, Casa Esperanza, which sits on a hill and is surrounded by the town and community of Aquiares which has grown as the estate has thrived. It is the largest coffee farm in Costa Rica and is co-owned by three families. 80% of the land is dedicated to growing coffee and the other 20% to conservation. Casa Esperanza only has a handful of rooms, some of which share a bathroom, so is ideally suited to a family or small groups of friends. We had a tour of the estate and also did some coffee tasting. In the area there are so many day activities to do too - riding, rafting, mountain biking, hiking, or a visit to the archaeological site at Guayabo, so it's a perfect base a few nights.
Santa Juana Lodge, Quepos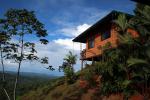 Santa Juana Lodge
Santa Juana Lodge was set up by Jim Damalas, an ex-Hollywood producer who decided to make Costa Rica his second home. Roll forward quite a few years and Jim now owns four lodges in Costa Rica, all of which are committed to the communities in which they are found. Santa Juana is where Jim had his own home to which he would escape from Manuel Antonio on the Pacific coast. As Manuel Antonio became increasingly popular, he decided to build a remote lodge here where guests could either come for a day or combine a few nights with a beach stay. The food is hearty, delicious and plentiful, and the views are spectacular. We went for a hike through the nearby forest and saw a poison dart frog and a 'moonwalking bird' (actually the red-capped Manakin) before reaching a beautiful waterfall and swimming hole which we had all to ourselves. This is a perfect option for those wanting to get away from Manuel Antonio or to break up a journey to or from the Pacific coast.
I also (finally!) saw some quetzals in San Gerardo de Dota and stayed at the delightful El Remanso on the Osa Peninsula - for me a must visit area of the country.
I really enjoyed this return visit to a country I love - the wildlife is there for all to see: super friendly people; tasty food; activities to suit everyone; and of course direct British Airways flights. I cannot wait for visit number five as I know there will be yet more new things to experience.
My itinerary followed elements of both our 'Classic Costa Rica' www.lastfrontiers.com/itineraries/classic-costa-rica and 'Family Costa Rica' www.lastfrontiers.com/itineraries/family-costa-rica itineraries, which are both good starting points when considering a trip to the country. Then of course give us a call for a version tailored to your interests.