In February this year, just over a year since my first trip I returned to Colombia for the ProColombia Travel Market. The two day event in Bogotá, provided the opportunity to meet with many of our preferred Colombian partners, hotels and local agents to get an update on what was happening. Taking advantage of my time over there I set out to explore the archaeological parks of San Agustin and the Caribbean coasts of San Andrés and Providencia.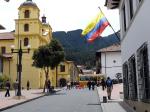 It was interesting, returning so soon to Bogotá, to find so much new happening: several new hotel openings (the city will soon be home to not one but two Four Seasons hotels) and an explosion of restaurants in the trendy Zona G (G for Gastronomy or Gourmet as they proudly told me). To help me explore the city's new haunts I called upon man-about-town, ex-LFer Oli Ford who has called the city home for the past year and a half. It was great this time around to see the city through the eyes of a 'local' and whilst I enjoyed Bogotá the first time around I was even more enthralled this trip by the city's pulse. It certainly helped that the rainy, grey skies had been replaced with sunny, blue ones and they were enjoying uncommonly high temperatures for the Andean capital (I say enjoying, I, the only one in flip flops fleeing icy, February Britain was enjoying, the suited and booted rolos on the other hand seemed more inconvenienced by this heat wave).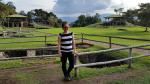 From Bogotá, I took advantage of Satena's (Colombia's government owned airline) new flight route to Pitalito – the flight is not daily but at just thirty minutes from San Agustin it is certainly an option worth working around, at least in one direction (other options are Popayan or Neiva, each at a four-five hour drive). This area has only just reopened to us Brits, following several years during which the Foreign Commonwealth advice deemed the area unsafe for travel. Quite similar in landscape and climate to the lush, green coffee region (and indeed they do grow their own coffee here), the beautiful, unspoilt area feels much unexplored – rural Colombia at its finest. The main draws of the area are the archaeological sites of San Agustín (and the nearby, smaller El Alto de los Idolos and El Alto de las Piedras) home to the mysterious collection of pre-Colombian stone carved figures in the shapes of humans, animals and gods – it is the largest group of religious monuments and megalithic sculptures in South America.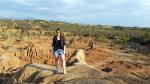 From San Agustín we headed by road to Neiva, some two hundred kilometres north-west, still in the Huila province. The road is good though not the most picturesque and the most exciting part of the trip was being pulled over at a military check-point where what initially felt like some quite serious questioning led to very emphatic, heartfelt thanks for my work promoting their great country! Continuing an hour past Neiva in the same direction we came to the incredible Tatacoa Desert, just in time for sunset. Given the tropical foliage that makes up most of Huila's landscape, one would never expect to stumble across this phenomenal Mars-like scenery. Set between two mountain ranges, which absorb the rainfall, the Tatacoa is the second largest arid zone in Colombia after the Guajira Peninsula. The fantastic red hues and quirky rock formations are at their most beautiful in the fading evening light – a sight to behold!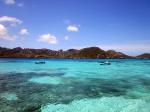 From Neiva I flew back to Bogotá for the final leg of my journey – the Caribbean Islands of San Andrés and Providencia. Closer to the shore of Nicaragua than that of Colombia, these beautiful islands are surrounded by what locals have dubbed the 'sea of seven colours' – a dazzling array from sapphire to indigo. It was beyond doubt the most beautiful sea I have ever seen. The two islands were discovered by Columbus on his fourth trip to the Caribbean and the majority of today's inhabitants are descended from Jamaican slaves brought over by English pirates and the English, Spanish and Dutch who all played their role in the islands' colonial history. They speak Spanish and a local Creole (Its vocabulary originates in English, but it has its own phonetics and many expressions from Spanish and African languages) – I certainly had to tune in carefully to follow along!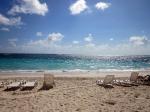 Whilst the two islands share the same extraordinarily coloured, coral-rich waters, they, in many ways, could not be more different. The commercialised duty-free haven of San Andrés is a popular mass tourist destination, particularly with Colombians. The main high-street is a concrete eyesore of electrical, perfume and liquor stores. Around the island large, sprawling resorts offer an all-inclusive experience complete with all-you-can-eat buffets, discotheques and casinos. That said, the island offered far more charm than such lacklustre descriptions had led me to believe. It has a wonderfully chilled, laid-back vibe to it, an incredible setting, friendly people and wonderful fresh seafood. My city tour (a loop of the ocean road encircling the island) showcased some beautiful spots and secluded beaches. One of the main beaches at North Point is in the centre of town and an early evening congregating point for locals and tourists alike: groups of youths play football or volleyball on the sand, lovers stroll hand in hand along the shore and families chat excitedly over cups of tinto at the ever-popular open-air Juan Valdez café. It all feels very local and far removed from the large resorts dotted around the island (the beauty of an all-inclusive is that the guests rarely leave!)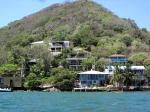 The smaller sister island of Providencia is reached by a short hopper flight from San Andrés. The added hassle and expense of the compulsory two flights from the mainland already make it a far less accessible and therefore popular destination. In stark contrast to San Andrés hotels are by in large, small guesthouses, of six to eight rooms or in some cases beach restaurants with a couple of simple rooms attached. The majority of properties are island-owned and regulations are in place to stop the island following in San Andrés' footsteps, with a much larger focus on sustainable, locally-run tourism. The one high-end property is the exclusive seafront Deep Blue, the crisp, stylish rooms are far more comfortable than other accommodation on the island, service is excellent and the food was the best of my trip. Set into the hillside of Providencia the hotel does not offer a beach (in fact there was far less beach to be found on Providencia than neighbouring San Andrés) but boat transfers to local beaches can be arranged. It is the perfect spot to switch off, but be prepared to go a little stir-crazy if that is not what you came for – large chunks of the island are Wi-Fi-free (more suited to loved up honeymooners than solo travel consultants!). Sun, snorkelling, seafood and simple pleasures are what Providencia is about.
All-in-all, it was a fascinating and informative week in this magnificent country. It was a great opportunity to dig a little deeper under the skin of this beautiful yet historically troubled country and uncover new areas. The people once again extended the most effusive of welcomes and made it even harder to say goodbye to a place of such abundant natural beauty. Our Cultural Colombia itinerary (www.lastfrontiers.com/itineraries/cultural-colombia) visits both of these areas.