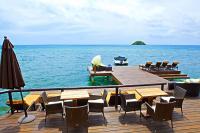 Deep Blue
Location
Providencia (San Andrés and Providencia, Colombia)
Description
A small yet modern hotel just a short boat ride from nearby Providencia island, surrounded by dazzling blue water and lush tropical forest.

There is a bar, restaurant and sun terrace which is perfect for relaxing. For guests wanting to visit the beach, the hotel offers a complimentary shuttle service.
Activities
Snorkelling, diving, kayaking, deep-sea fishing, birdwatching and nature trails.
Accommodation
13 guestrooms all with private balconies and some with views over the ocean. All rooms have air conditioning, minibars and televisions.