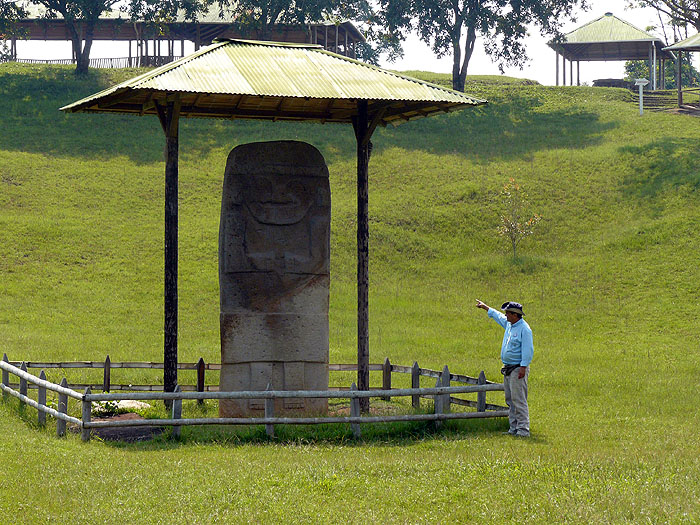 Cultural Colombia
pre-Columbian sites, coffee, colonial towns, and the beautiful Caribbean Sea
This 14 day itinerary explores the country's ancient past, then the coffee-growing region, and ends by the turquoise seas of Colombia's Caribbean islands.
To enquire about this itinerary, or one like it, please email us or click the Enquire button.
Itinerary summary
Bogotá - gold in the Andes
Days 1-3: Overnight flight to Bogotá, Colombia's Andean capital, where the first two nights are spent. The Museo del Oro (Gold Museum) houses over thirty thousand gold artefacts, making it one of the largest collections in the world. You will have free time to explore at your leisure.
San Agustín - pre-Columbian past
Days 4-5: Fly to Pitalito from where it is one hour by road to San Agustín, your base for two nights. Visit the archaeological park of San Agustin and Alto de los Idolos. San Agustín contains the largest group of religious monuments and megalithic sculptures in South America depicting animals, mythical creatures and humans, some over 4 metres tall dating back to AD100.
Coffee and parks
Days 6-8: Fly (via Bogotá) to Pereira in the coffee region for three nights at a traditional hacienda. The coffee region is spread over the central spine of the Andes, and includes several parks and national reserves. Enjoy hikes in the area and maybe even learn about the coffee process.
The City of flowers
Days 9-10: A four to five hour drive takes you to Medellín. The city was made infamous by the exploits of Pablo Escobar, but has left the dark days well behind and invested hugely in redevelopment and making the city a centre of culture. Included is a visit to the huge rock at El Peñol and traditional town of Guatape.
Providencia
Days 11-13: Fly to the Caribbean to spend a relaxing final few days on the island of Providencia. Set in a clear turquoise sea, the reef around San Andres and Providencia is the third longest in the world and a wonderful diving and snorkelling destination. Tourism here is in its infancy, giving a relaxed and authentic local experience, with creole and Spanish influences.
Accommodation options
In the following section you will see our suggested options for possible accommodation.
The estimated flight cost included in this itinerary (assuming international flights from the UK plus any internal flights that are necessary) is Ł1,340 per person.
Standard - Ł3,565
Hacienda San José - a lovely hotel with just eight rooms in the heart of the coffee region near Pereira.
Hostal Anacaona - a simple yet comfortable hotel with lovely grounds on the outskirts of San Agustin.
San Luis Village - a small, friendly, beach-front hotel on the island of San Andres.
Price and validity notes
We have tried to give you as accurate an idea of prices as possible, including meals where appropriate (but not when there are good local options so you don't pay for a meal that you might not want), accommodation, transfers, and any tours we have included.
All prices are per person based on two people sharing a room and are intended as a guide (local high or low seasons can cause some variation). All prices were correct when published but may vary with exchange rate fluctuations, fuel surcharges, or changes in the general economic situation.