Ali spends a month visiting some lesser known areas of Peru.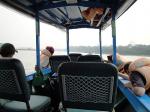 Pushing the boat to TRC
Following the inevitable long journey to Peru I flew straight to Puerto Maldonado where I was whisked off by boat to experience a few of the lodges in the area. My first night was spent at Posada Amazonas which, although only a couple of hours from town, is still a great introduction to the Amazon. Being the usual work trip it was a rushed visit but I had time to climb the canopy tour and the following morning we paddled silently around Tres Chimbadas Lake. This turned out to be a very special experience. Not only were there countless birds to be seen, we also spotted a family of giant river otters - an amazing sight! My next stop was a long journey upriver but the time whizzes by as you stare along the riverbank hoping to spot some wildlife. Countless capybara later I arrived at Tambopata Research Centre which was my home for the next couple of nights. The macaw clay lick is the main attraction there but there are also various walks to be done, and even kayaking on the river. It is also a pretty interesting place for those interested in wildlife or conservation as there are opportunities to help out with the ongoing macaw research study. This does need to be organised in advance (ask us for details) but you can volunteer for a few days, or longer, if you want to do something a bit different while on holiday. The journey back downriver to the next lodge turned out to be a bit of an adventure. As I was there in the dry season the river was quite low in parts and so we did have to get out the boat and push in some areas - it added to the experience and was actually quite refreshing! Refugio Amazonas is another great lodge and my highlight there was climbing a tree for a rewarding view across the river. I returned to Lima where I enjoyed a gastronomy excursion. We visited the bustling fish market followed by a visit to a fruit and vegetable market where we got to try various local fruits. The excursion ended with a traditional breakfast where we were presented with our very own aprons! There are other versions of gasronomy excursions to be done, including learning how to make ceviche.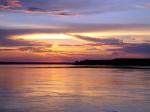 Sunset from M/V Aqua
Following my time in Lima at a conference where I met up with all our contacts from all over South America, I flew north to Iquitos. The city is buzzing but as my flight was delayed I unfortunately didn't get to see too much of it. My home for the next three nights was on M/V Aqua, a luxurious boat which operates three, four and seven night itineraries in the area. After a long day of travelling I was pleased to see my comfortable cabin and enjoy a hearty dinner! Over the next few days we did two or three excursions a day, mostly by skiff (small boat). There were many birds to be seen but I have to say the highlight of this area was seeing so many pink river dolphins. I was expecting to see some but not that many. I left the Aqua feeling glad to have experienced her. She is certainly a different experience to the Tambopata area and definitely a great option for those who enjoy their comforts and want to experience a bit of the Amazon!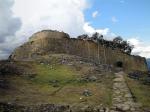 Kuelap near Chachapoyas
The next stage of my trip was heading along the coast in the north. It is from Trujillo where you can visit the sites of Chan Chan and Huacas de la Sol and de la Luna. The area is bursting with history but only a small handful of tourists visit each year as it is away from the main tourist trail. Moving on from Trujillo I spent a couple of nights in Chiclayo. This is more of a modern city but there are many archaeological sites nearby so well worth a visit, particularly Sipan. The final stage of my trip took me inland from Chiclayo. It was a long 8 hour journey into the mountains, finally reaching Gocta Andes Lodge, a small lodge overlooking Gocta Falls. It was a welcome sight after all those hairpain bends! The main town is this area is called Chachapoyas and again very few tourists visit this area, mainly due to it being so difficult to reach. The valley and mountains are littered with archaeological sites, it really is full of history. I spent the following days visiting quiet a few of the sites, my highlights being Kuelap, Karajia and Gocta Falls. If you plan to visit this area though you should be prepared for long journeys around mountains on gravel roads - but I think it is worth it!