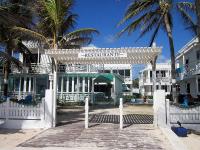 San Luis Village
Location
San Andrés (San Andrés and Providencia, Colombia)
Description
A small, friendly hotel on San Luis beach, a few miles from the town centre. The hotel is simple, but rooms are clean and comfortable and it is set in front of one of the best beaches on the island. There is a small restaurant and swimming pool. There is a nice, relaxed, Caribbean atmosphere.
Accommodation
The hotel has around 20 rooms: standard, superior and superior plus. The standard and superior are the same in terms of décor, size and layout, it is just the view which differs, the standard are not sea front (but do offer a partial view) and the superior are sea front. The superior plus are family rooms – they have a double seafront room and separate twin room with no view.
Our comments
A simple option, but fantastic beach and far from the noise of the town centre.