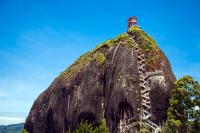 Founded in 1616 by Spanish conqueror Francisco Herrera y Campuzano, Medellín is Colombia's second-largest and arguably most progressive city, renowned for its numerous plazas and colourful parks. A city made infamous by the exploits of Pablo Escobar, Medellín has left the dark days well behind and invested hugely in redevelopment and making the city a centre of culture. The region is known for its flowers and the annual Feria de las Flores (Festival of Flowers), celebrated in the first week of August, is particularly impressive.
Our preferred accommodation
City hotel - El Poblado district, Medellín

A modern and elegant business hotel in the residential district of El Poblado. The hotel has two restaurants and there are a number of good bars and restaurants a short walk away. The hotel also has a spa.

City hotel - El Poblado district, Medellín

A delightful boutique hotel in the heart of El Poblado district in Medellín. The building is a restored villa that its French owners have turned into a true oasis in a bustling city.