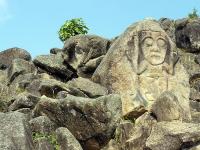 South, towards the Ecuadorean border, Popayán is a fascinating city of cobbled streets and colonial architecture near the remarkable archaeological sites of San Agustín, highlighted by 500 imposing stone statues carved in accordance to the mythology of their Indian sculptors and the world heritage site of Tierradentro.
Popayán itself, Colombia's "White City", was founded in 1537 and is a charming colonial city with countless churches which in its heyday rivalled the likes of Villa de Leyva and Cartagena. Much of the city was destroyed in the devastating earthquake of 1984 though huge efforts have been made to restore it to its original grandeur. Today it is a fascinating city easily explored on foot.
Our preferred accommodation
Country hotel - San Agustin

A warm, family-owned lodge on the outskirts of town and a ten minute drive from San Agustin archealogical site. The rooms though simple are very homely and beautifully decorated with local art and textiles. The property is surrounded by wonderful, well-maintained gardens with gorgeous views. There is a restaurant, serving regional and international dishes.

Lodge/Hosteria - San Agustin

A charming small hotel on the outskirts of San Agustin with restaurant. The gardens are pretty and hammocks can be found on the terraces surrounding the hotel.

City hotel - Popayán

A small, cosy hotel with plenty of character a few blocks back from the central plaza.