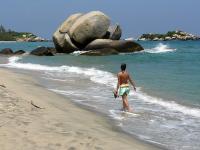 The snow-capped peaks of the Sierra Nevada de Santa Marta reach 5,770m and in their northern shadow the Tayrona National Park hides some of the most remote and enchanting beaches in the world. Here is also a starting point for treks to the famous Lost City (Ciudad Perdida).
Our preferred accommodation
City hotel - Santa Marta old town

A charming, small hotel with a cosmopolitan theme in the heart of the old town (a minute's walk from the cathedral). The hotel is one of several small hotels in Snta Marta owned by a friendly Spanish couple from Barcelona. There is a jacuzzi on the ground floor and small pool on the rooftop terrace which offers lovely views of the cathedral. Only breakfast is served.

City hotel - Santa Marta

A boutique hotel in Santa Marta's historical centre, just a short walk from the beach. There is a restaurant, bar and terrace where guests can relax, and an outdoor swimming pool and spa.

Beach hotel - Close to Tayrona National Park

A comfortable option in a secluded spot along the Caribbean coast. The property is around fifteen minutes' from the entrance to Tayrona National Park, set just back from the beach. There is a restaurant which is open only to guests of the hotel (meals are included) and food is prepared using fresh, natural ingredients. There is no hot water at this hotel.