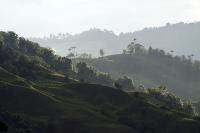 Manizales and Armenia are good stopping-off points for tours of the coffee region. Family-run haciendas provide the perfect base from which to explore these fertile valleys.
Our preferred accommodation

means that the hotel is one of our Dream Destinations.
Country hotel - Pereira

Casa Sazagua is a small, tasteful boutique hotel on the outskirts of Pereira, half way in between the Cocora Valley and the main coffee plantations around Chinchiná. The décor is modern and stylish with light wooden furniture creating a warm, friendly atmosphere. There is a large restaurant open to the public which serves delicous food and overlooks a colourful tropical garden and good-sized outside pool.

Country hotel - Armenia

A typical two-storey hacienda with bamboo features in the heart of the coffee region, and with views to nearby mountains and local farms. There is an outdoor pool and restaurant, and the garden has a beautiful collection of tropical flowers such as heliconia and orchids.

Estancia/Ranch - Pereira

Dating back to 1888, San Jose is a wonderful hacienda surrounded by spacious grounds and colourful gardens, situated at the heart of the coffee triangle in between Pereira and Chinchina. Owned and run by the Mejía Jaramillo family, the traditional two-story hacienda is full of charming colonial décor, period furniture and family mementos, an elegant testament to a by-gone era. There is an open verandah running the length of the building where breakfast and meals can be served while towards the back, a paved patio enclosing an elegant pool and Jacuzzi.