Welcome to our regular round-up of Latin America news and staff travel reports. In this issue:
Office news
Last Frontiers' Top Three Gardens
Claire and Fran in north-east Brazil
Ali in Uruguay
Last Frontiers in the press
Office News
Since our last newsletter we have launched our new website and are very pleased to have received much positive feedback - do take a look if you haven't already. We have said a fond farewell to Tracy who after 15 years has decided to work closer to home - we will miss her. We welcome Nicola, who arrived a couple of weeks ago with her two spaniels Rodaidh and Caoimhe who join Sue's terrier Mijbil - we seem to be acquiring a pack of unpronounceable dogs.
Last Frontiers' Top Three - Gardens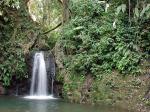 Waterfall at Xandari
A glossy magazine recently asked us to suggest our favourite hotels with incredible gardens and the following were among our top choices:
Xandari Plantation, Costa Rica
This boutique hotel's owners are an architect and artist respectively and their influence is evident throughout the property. When the land was originally purchased it was almost entirely dedicated to growing coffee. Gradually the coffee was replaced with trees and tropical plants and now the gardens have become botanical, delightful, varied and educational (and with still enough coffee for breakfast!). The gardens and coffee plantation lead down to a stream with five waterfalls, and there is an Orchid House with a variety of tropical orchids (including a hybrid officially recognized and named after their head gardener).
"Our final stay in the fabulous Hotel Xandari, in the hills above San Jose, was a fitting end to a wonderful trip. Even here, we saw some new species of bird and enjoyed good food and pleasant hikes along the hillside trails. A visit to the waterfalls at the bottom of the hill is highly recommended." - DD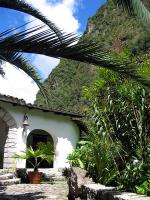 Tropical gardens at Inkaterra Machu Picchu
Inkaterra Machu Picchu Pueblo, Peru
In the village below the site of Machu Picchu, the hotel's casitas are spread around tropical gardens. It is surrounded by 12 acres of cloud forest which can be explored by guests staying at the hotel. Wander through their orchid garden to spot some of the 372 different native orchid species in their natural habitat (three new species were discovered in the hotel grounds). Guests may be lucky enough to see the cock-of-the-rock or the golden-headed quetzal and are sure to see many of the 18 different hummingbird species identified within their grounds. Last month a group of guests were even lucky enough to see a wild spectacled (Paddington!) bear.
"We liked the hotel a lot and it is the one place I would have really liked another day - just to explore the grounds and do some birdwatching. We arrived after dark after hiking the 1 day Inca Trail and left in the dark the following morning, to get to see the sunrise. However, we did have a walk in the orchid garden before we caught the train back to Cusco." - MW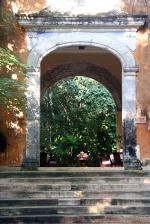 Archway at Hacienda Uayamón
Hacienda Uayamón, Mexico
Formerly a cattle ranch and a henequen (sisal) plantation, Uayamón has been beautifully restored, maintaining many of its original features dating back to 1894. Outbuildings and old employee houses are scattered around the gardens and have been lovingly converted into luxury suites and quirky pools. There is a small chapel and a jail in the grounds, a 150 year old ceiba tree (sacred to the Maya), a colonnaded pool, and even an estate cemetery. The pathways are candlelit by night and are very atmospheric. The main house contains a library, hall, and the restaurant (although guests are encouraged to eat wherever they want).
"The Hacienda Uayamón was incredible and just what I expected. We ate there both nights and the food was lovely. There were only three rooms occupied so at night it did feel a little spooky walking back to your room but the setting is amazing." - SW
Claire and Fran in north-east Brazil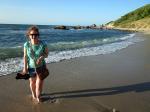 Claire in Jericoacoara
Earlier this year Claire and Fran were invited to attend a travel show in Fortaleza, north-east Brazil. To take full advantage of their time in the area they added a two week scouting trip, exploring the beautiful colonial cities of Olinda and Salvador, the amazing scenery of the Chapada Diamantina and at least five different beach destinations, from glamourous Trancoso to the quiet island of Boipeba, finding some gems of hotels along the way. Claire focuses here on the beach elements of the trip. Who knew that sun, sea and sand could be done in so many ways! Read Claire's Brazil trip report.
Ali in Uruguay
Ali in Punta del Este
In October Ali returned to Uruguay to delve a little deeper into this charming little country on the northern banks of the River Plate. She explored the coastline between Carmelo in the west and José Ignacio in the east, taking in historical towns, estancias and vineyards along the way. Ali stayed in some delightful places, including some new discoveries, and made the most of the excellent food and wine! Read Ali's Uruguay trip report.
Last Frontiers in the press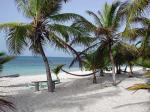 Southwater Caye, Belize
You may have seen Last Frontiers mentioned recently in the Metro (for Brazil), The Times (15 polar adventures by sea), the Daily Telegraph (Classic Belize) and The Lady (Atacama Desert stargazing at Alto Atacama).
Our very own Claire appears (including photo credit!) in the January 2016 issue of Elle, recommending some 'Chic Shacks' in South America.
Next time we will have another report from Claire and Fran, who saw so much that they can't fit it all in one newsletter!
We hope to see some of you at the Destinations Travel Show at London Olympia (4-7 February) where we will have a stand in the Latin America section. Let us know if you would like a ticket.
With best wishes for Christmas and the New Year from all at Last Frontiers
Edward
--
Edward Paine
Last Frontiers Limited
Tel: 01296-653000 | info@lastfrontiers.com | www.lastfrontiers.com
The Mill | Quainton Road | Waddesdon | Buckinghamshire | HP18 0LP
"Thank you again for all your help and patient advice and for putting together such a wonderfully memorable trip to Peru. Your hotel suggestions were brilliant! A most excellent time was had by all! We look forward to the next Last Frontiers adventure." - ML