Home to approximately 5,000 miles of coastline, Brazil knows how to do beaches; from vibrant city shores, to idyllic island getaways, the choice is almost too abundant. The words 'once sleepy fishing village' seem to be bandied about more freely than the cachaça flows, to (albeit accurately) describe any number of resorts from Buzios to Jericoacoara. It is hard to say, from afar, what exactly the vibe is in any given spot and almost impossible to choose where best to don those Havaianas and soak up some rays. In May this year I was lucky enough to head with Fran for the north-east of the country to check out a few hotspots along this world-renowned coast.
Porto de Galinhas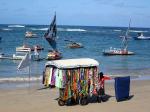 Porto de Galinhas beach
We flew to Recife, capital of Pernambuco and after a night in the charming, colonial town of Olinda, headed south to Porto de Galinhas to see the sea (and a few beach resorts). Porto de Galinhas is the name of the beach (around forty five minutes from Recife airport), famous for its bright-water beaches and natural pools. The town is small but sweet, a few streets lined with restaurants, ice cream shops and dive centres – classic tourist fare but none too garish. The hotels are strung out along the coast from town, mostly larger resorts than found in the other beach destinations we visited, which does make it a great spot for families – plenty to keep everyone entertained - tennis, kids clubs and a multitude of water sports.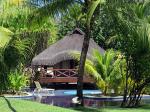 Nannai Resort and Spa
The best hotel has to be Nannai Resort and Spa, eleven kilometres from town on Muro Alto beach. Lovely thatched bungalows are set around pretty, well-manicured tropical gardens. Communal areas are large and very comfortable, with plenty of private spots, in the sun or shade to relax and dip into a good book. Expansive crystal-clear swimming pools weave their way through the palm-filled grounds and the beach is a hive of activity, with instructors on hand to help with sports from kayaking to stand-up paddle-boarding.
Jericoacoara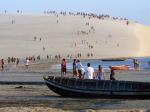 The Sunset Dune, Jeri
After a travel convention in the busy city of Fortaleza, we headed north-west up the coast to Jericoacoara, or Jeri as it is known to locals. The journey takes around four hours by road (and off-road – a 4X4 is needed for at least the last section, over bumpy sand dunes). Whilst the town is more built up than it was, say a decade ago, it is far from spoilt. The very fact it is so hard to reach helps to preserve the charm and add to the romance of area (feels like a bit of an adventure getting there!) The town comprises four streets, roads are literally paved in sand and virgin beaches stretch out for miles. The dress-code is flip-flops, tans and smiles - laid-back, unpretentious fun, a feeling of being disconnected but with enough of a buzz to keep you entertained. Rumour has it a nearby airport is set to open next year so now is the time to go.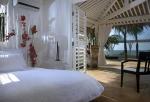 Bedroom at Chili Beach
My favourite place to stay has to be Chili Beach, tucked away in a quiet corner of town - the six rooms are a stylish mix of white linens and driftwood furniture. The ocean breeze carries cool tunes from the poolside bar and the tantalizing smell of fresh seafood cooking from the Italian open-air restaurant.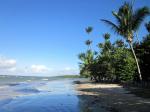 Fourth beach, Morro de São Paulo
Next beach stop was Morro de São Paulo, on the island of Tinharé, off the coast of Salvador (which can be reached by either plane, or as in our case, boat). Though Morro is often the term used to refer to the whole island, it is in fact one of five villages, stretching out across four beaches on the island's north-easterly tip. A popular haunt for Brazilians and international visitors alike the landscape is jungle-topped hills and long sandy beaches, the atmosphere very relaxed (more laid-back Mediterranean feel than bohemian trendy spot). The second beach is where the action happens at night, candlelit restaurants and bars line the waterfront, interspersed with cocktail carts offering every tropical fruit twist imaginable on the classic Brazilian caipirinha.
Bungalow at Anima hotel
I would recommend staying on the more secluded, fourth beach (aptly named Praia do Encanto) where Hotel Anima offers a beautiful private spot – eleven free-standing bungalows snuggled in tropical foliage. At low tide it is a pleasant hour and a half's walk to town along the sea front (the hotel offer a shuttle service 4 times per day).
Boipeba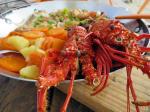 Local seafood, Boipeba
To the South of Tinharé, Ilha de Boibepa is not a classic 'beach destination', hotels are generally set back from the shore and swimming pools are a scarcity - bona fide sun-worshippers look elsewhere! It is, however, a world away from the bright lights and buzz of mainland metropolises, a wonderful step back into simpler times. To reach the island we were driven the length of Tinharé and picked up by boat for the short stretch of water separating the two islands. On Boipeba there are no roads, no cars, cobbled streets lead up to the central square and life moves at a refreshingly slow pace. On the waterfront, local fishermen go about their day and beach-shack restaurants serve up the fresh catch. Tucking into a huge seafood platter with an ice-cold beer, sunshine on your back and sand between your toes, life feels good on Boipeba!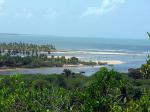 View to the village, Boipeba island
Pousada Santa Clara is one of our favourite places to stay. The restaurant is said to be the best in Boipeba and is run by one of the owners, an American chef who has worked in San Francisco and Rio. The cuisine is Bahian fusion and the menu changes with what is fresh that day.
Trancoso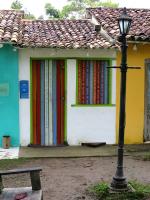 Colourful houses of the Quadrado
Last beach stop was the fashionable village of Trancoso (one and a half hours by road from the city of Porto Seguro). Here the action centres around the grassy main square of the Quadrado, where locals gather in the early evening to play football, at the far end the pretty, all-white, São João Batista church stands overlooking the sea and immaculately painted colourful houses line the sides. Many of these casas house excellent restaurants or quirky boutiques – treasure troves of a thousand beautiful, designer knick-knacks which you could never need but cannot help but want. The Quadrado is a steep ten minute walk through mangroves to the beach, where an array of beach bars and restaurants can be found, but some hotels out of town do enjoy a beach front position. Trancoso was certainly the most sophisticated of the spots we visited. It is where the wealthy come to unwind and enjoy the simpler things in life (without foregoing the 600 thread-count linens). If you have the budget, why not? What they do, they do very well.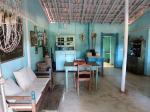 Ice cream parlour at Uxua
The gorgeous Uxua property beautifully epitomizes the feel of the town – chic, effortless luxury - expensive rustic. The modest pink ice cream shop front on the popular el Quadrado hides lush tropical gardens, amongst which the majority of beautiful rooms are nestled. Salvaged wooden trunks and sea shells cunningly conceal the latest technology, whilst king-sized beds dressed in fine linens take the centre piece amongst vintage furniture and local Bahian art. Created by Wilbert Das, the ex-creative director of global brand Diesel, every detail has been carefully crafted, an impressive feat to make simple this stylish.
Five very different areas and to be honest, not one I wouldn't have happily spent a week relaxing in at the end of our hectic trip! Our tour just touched the surface of all the north-east has to offer in terms of beaches, let alone the rest of the country, but rest-assured, whatever your preferred beach style, Brazil has a spot for you!