Welcome to our latest round-up of Latin America news and staff travels. In this issue:
Office news
Last Frontiers' Top Three: Unusual ways to get from A to B
Staff reports and feedback: Nicola travels from tip to toe in Chile and Emily reports back from the lesser-visited Caribbean coast of Costa Rica
Office news
We were delighted to help DEBRA (www.debra.org.uk), the charity helping those who suffer from the skin condition EB, raise nearly £100,000 at a fundraising clay shoot and subsequent ball. At the clay shoot DEBRA were kind/rash enough to ask me to join their team, we came a respectable runner-up and had a chance to take a pot-shot at a remote-controlled model aeroplane! I would particularly like to thank Metropolitan Touring, whose generous contribution made up one of the top auction prizes (a Galapagos cruise on their yacht Isabela II: www.lastfrontiers.com/hotels/galapagos/cruises/isabela).
Having welcomed Emily Bailey to Last Frontiers in the last newsletter, we sadly have to say goodbye to her in this one - her RAF husband was posted to Lincolnshire, where we wish them both the best of luck. One of her last jobs was helping me put together some wonderful escorted group tours for alumni of Oxford and Cambridge Universities. If you were at either university and would like to know more just let me know - we have three fascinating trips scheduled for 2018 to Peru, Brazil and Colombia - or look here: www.lastfrontiers.com/alumni
Last Frontiers' Top Three: Unusual ways to get from A to B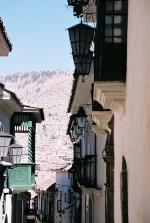 La Paz
Thanks to Nicola for these three: What with new cable car lines connecting commuters and tourists alike in La Paz, Bolivia, it struck us that there are so many weird and wonderful ways to get around Latin America, so why go by car?
Take the Teleférico, La Paz
This month sees the opening of two more cable car lines soaring through the La Paz skyline. Built into a vast crater and surrounded by snow-capped peaks, La Paz is a truly spectacular city to behold but walking on foot can be exhausting (nowhere is flat), and travelling by car or bus is often mayhem. Our tip: avoid all this and take the cable cars which allow you to enjoy the city's spectacular skyline from above (possibly not for those who suffer vertigo!).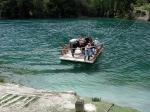 Sue floats a horse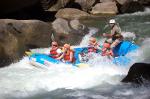 River rafting and zip-lining, Costa Rica
Costa Rica is well known for being an adventurer's dream. With rivers and rainforest covering much of the country, it's perhaps no surprise that the ticos (as Costa Ricans call themselves) have come up with various unusual ways to get from A to B. Many of the lodges here can only be accessed by boat (two by white water raft only). If water is not your thing, perhaps sky trams or zip lines are? Take to the trees and explore the forests from above - it's a great way to get eye-level with the birds, monkeys and sloths so prevalent in the region.
www.lastfrontiers.com/hotels/costa-rica/the-central-highlands/pacuarelodge
Staff reports and feedback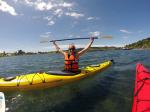 Kayaking in Chiloe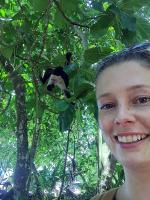 Emily's monkey selfie
Costa Rica
Our latest recruit, Emily, was in Costa Rica at a time of year when the Pacific coast can be damp, so instead explored the Caribbean coast which is usually drier and has some interesting hotels and lovely national parks. San José, the capital, now also has non-stop flights from Gatwick with British Airways.
See www.lastfrontiers.com/articles/view/costa-rica-emily-discovers-the-caribbean
With best wishes from all at Last Frontiers
Ed
--
Edward Paine
Last Frontiers Limited
Tel: 01296-653000 | info@lastfrontiers.com | www.lastfrontiers.com
The Mill | Quainton Road | Waddesdon | Buckinghamshire | HP18 0LP
"I would like to thank you for your excellent planning, patience and execution of this vacation, the balance of tours and own time was just right. If it is Latin America, as before I would always return to Last Frontiers."