In May I had the opportunity to visit Costa Rica for the first time. The itinerary was exciting and really varied and gave me the chance to explore the less visited Caribbean coast. Whilst there I enjoyed discovering the growing town of Puerto Viejo, Cahuita National Park and the new Aguas Claras Hotel.
Puerto Viejo de Talamanca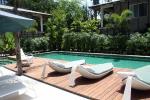 Pool at Le Caméléon
This small town (known by its abbreviated name of Puerto Viejo), is quite far off the beaten track and well worth a visit. My expectations of Puerto Viejo were somewhat limited as I had never really heard much about it but was imagining a beautiful Caribbean beach with a very small little town on the beach front. I was therefore surprised to find a plentiful supply of accommodation for visitors, especially at the lower budget level but increasingly higher end properties are also popping up. There are an abundance of bars and restaurants along the seafront and small gift shops full of wooden hand painted kitchen utensils, hammocks and 'Pura Vida' t-shirts. Although they look a bit touristy the locals are also decked out in 'Pura Vida' t-shirts and there are hammocks strung up all over the place giving the town a very relaxed feel. It has a fantastic Caribbean vibe with no hustle and bustle and it seems everyone has time to have a swing in a hammock and watch the world go by with a rum and coconut cocktail in hand.
Cahuita National Park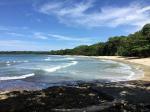 Cahuita National Park beach
Nearby, a visit to the Cahuita National Park makes a perfect day trip. It is a short 20 minute journey away and consists of a trail which is around 9km long. The trail is completely flat and runs along the beach, so on one side you have the beach and on the other you have the forest. We had 2.5 hours to enjoy this trail and only managed to walk just over a kilometre and back again with a short 20 minute stop for a swim in the sea. This was because of the richness of wildlife which was around. We were stopping every few meters to look at something new. Sloths, raccoons, howler monkeys, white faced monkeys, snakes and an array of different birds were all in abundance and the best thing was that there were very few other people around. I would strongly recommend getting a guide as they just seem to be able to spot things my eyes would never have been able to see and they are extremely knowledgeable. There is also a possibility of walking the 9km trail and being picked up by a boat for a bit or snorkelling. The boat will then take you back to the park entrance, saving you the long walk back and you'll get the opportunity to enjoy the nearby reefs. This sounds to me like an excellent end to the excursion.
Aguas Claras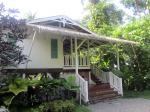 The Casa Coral cabin at Aguas Claras
This is a new property just outside of Puerto Viejo due to open next year. The rooms and casitas all have such character and if it wasn't for the humidity you could be fooled into thinking you are in a cottage in Cornwall rather than a beach house in Costa Rica! The design is really colourful and very personal to the owner as she has designed and hand crafted the majority of the lampshades, mirror frames, cushion covers and mosaics herself. The rooms are all light and airy and each casita has a lovely big balcony or terrace to sit and listen to sounds of the forest. It is a short 2 minute walk to the beach which is pleasantly secluded. It was a bit overcast when I was there but I imagine on a sunny day the trees on the beach would provide plenty of much needed shade to enjoy reading a good book under. Aguas Claras would be a perfect destination for a couple who want a relaxed few days by the beach combined with plenty of culture which can be found in the town of Puerto Viejo.
I thoroughly enjoyed my short few days on the Caribbean coast and would highly recommend making the journey to Cahuita National Park. I just can't believe how few people we saw. As Costa Rica has such a diverse climate there are always places to visit no matter what time of the year you are able to visit. The Caribbean coast is perfect for holidays in September and October for sunny weather when the Pacific coast is rather rainy. February and March are also excellent as they are the driest months.