Welcome to our latest round-up of Latin America news and staff travels. In this issue:
Office news
Last Frontiers' Top Three: Chic Shacks

Latin America in the press
Staff reports and feedback: Nicola contemplates luxury travel in Argentina and Chile and Emily B puts the Peruvian potato back on the menu
Office news
We welcome three new members of staff: Emily Bailey found us after a few years juggling a small child and life as a home-based travel agent. She has travelled in Latin America (including a winter stint in the Falklands when her RAF husband was posted there) and is with us 4 days per week. Priscila Purat knocked on our door at the end of 2016 asking for work experience, and as her parents are both from Latin America we found it impossible to say no. She is already performing an invaluable job keeping our back office in shape. Emily Davies trained as a geographer and was working for a mapping company in Aylesbury when she decided to follow her passion for travel instead. She will be visiting Costa Rica next month and will report back for our next newsletter.
Charitable activity
We have just sent over £3,000 to the LATA Foundation to support some wonderful projects across Latin America. Over £800 of this was from our clients for which both we and the Foundation are incredibly grateful.
Last Frontiers' Top Three: Chic Shacks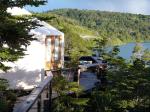 Yurt at Patagonia Camp
Inspired by a feature in Elle magazine (for which I was asked for ideas) here are 3 'chic shacks' to inspire a visit.
Patagonia Camp
The wind that is forced over the granite peaks of the stunning Torres del Paine national park in southern Chile creates extraordinary lenticular cloud formations, and the light is almost magical. The 20 luxury yurts of Patagonia Camp are well insulated against the elements, with central heating and private bathrooms. Activities include walks, kayaking, fishing, riding and boat trips but the stand-out attraction for me was the spectacular view, across the blue waters of Lago Toro towards the Paine massif - from the most comfortable bed I have ever slept on.
www.lastfrontiers.com/hotels/chile/torres-del-paine/patagoniacamp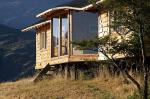 Mallin Colorado
Mallin Colorado
Chile's iconic southern highway, the Carretera Austral, stretches 1,400km from the Lake District until it reaches the uncrossable barrier of the Patagonian Ice Cap. Strategically placed towards the southern end, on the shore of Lake General Carrera, is the charming Mallín Colorado. The rooms are everyone's idea of what a cosy log cabin should be - roaring fire, comfortable beds, charming hosts and stunning lake views. The fact that it's so far off the beaten track just adds to the allure.
www.lastfrontiers.com/hotels/chile/southern-carretera-austral/mallincolorado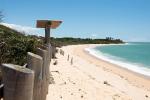 Tutabel's beach
Tutabel
Not far from Brazil's trendy Trancoso, media mogul Roberto Marinho's one-time summer house is now a small luxury hotel called Tutabel. It is one of the few properties here which is right on the beach - the accommodation is very comfortable and the service faultless. There are just 8 rooms, a lovely pool, a spa, sauna, gym and a restaurant, where breakfast is served until midday (a sure sign of a hotel where they know how to make their guests feel relaxed).
www.lastfrontiers.com/hotels/brazil/porto-seguro-to-trancoso/tutabel
Latin America in the press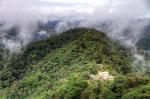 Mashpi Lodge, Ecuador
Latin America in the press
The BBC seems to have Latin America fever at the moment (we can't complain!). Liz Bonnin's fascinating BBC1 series Mission Galapagos (part 2 of 3 is tonight at 9pm) shows some parts of the archipelago that visitors will never see. Mashpi Lodge in Ecuador's cloud forest was featured in BBC2's Amazing Hotels series (episode 2, still available on iPlayer), and on Easter Sunday Simon Reeve will be reporting back from Colombia, also on BBC2.
We expect an article on Costa Rica to be published this weekend in the Mail on Sunday - we helped writer and author David Rose arrange a holiday for his family.
Staff reports and feedback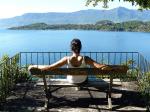 Nicola at Antumalal (Chile)
With best wishes for Easter from all at Last Frontiers
Ed
--
Edward Paine
Last Frontiers Limited
Tel: 01296-653000 | info@lastfrontiers.com | www.lastfrontiers.com
The Mill | Quainton Road | Waddesdon | Buckinghamshire | HP18 0LP
"Dear Sue, after our excellent holiday to Argentina, Chile and Brazil I must say how much we both appreciated the quite outstanding level of service we had from you at Last Frontiers and all the drivers and guides provided by your local partners. The hotels you selected were first class and the quality and service was excellent and friendly. We were very happy with the mixture of days at leisure and organised excursions - thank you for all your help and advice planning our trip of a lifetime!"