Luxury Travel - what does it mean? With everyone from EasyJet to Harrods advertising 'luxury holidays', 'luxury villas', and 'luxury tours,' the term has rather lost its meaning - or at least become a bit confusing.
What is clear however is that 'luxury' means different things to different people. This makes selling it a tricky business. To get it right, you need to understand an individual's expectations, which is where tailor-made travel really comes into its own.
Think about it for a minute… what would make your precious time away a luxurious experience?
Luxury yurts at Patagonia Camp
The Oxford English dictionary defines luxury as:
'A state of great comfort or elegance, especially when involving great expense', 'An inessential, desirable item which is expensive or difficult to obtain' and 'A pleasure obtained only rarely'
As some of my most precious and memorable travel experiences have been spent in a tent under the stars, I'm not convinced luxury equates to great comfort at great expense. My personal idea of a luxurious break isn't being waited on hand and foot in some glitzy five star skyscraper but rather, being hidden away in some remote spot and left alone with a good book, paints and a sketchpad. But that's just me. I like to disconnect and have the opportunity to live life in the slow lane for a while.
If camping in comfort sounds appealing, Patagonia Camp has some exceptional yurts in the wilds of Torres Del Paine: www.lastfrontiers.com/hotels/chile/torres-del-paine/patagoniacamp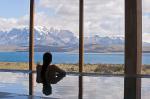 Even the Tierra pool has stunning views of Torres del Paine
Having recently spent three weeks staying in some of Chile and Argentina's finest properties, luxury travel is a topic I have been thinking about a lot lately. What was it that made certain stays so special? How did each hotel define luxury? With our travel expectations becoming ever higher, we have come to regard room service and free Wi-Fi as a necessity and 1000 thread count bed-sheets the norm. So how does a top-end hotelier set themselves apart in 2017?
Based on my recent travels, I came up with the following top three ways a vacation can be made that much more enjoyable:
Unique experiences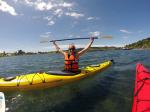 Kayking the tranquil waters around Chiloe Island
Whether it is hiking through the overgrown, pampas-strewn gorges of the Atacama Desert or kayaking silently from one island to another on the Chiloe archipelago, what made these experiences so memorable and enjoyable was that I experienced them alone, away from the masses. With ever more people holidaying overseas each year it is proving trickier and trickier to find and enjoy these special spots of peace. I have found the best hotels and guides will always do their utmost to share their hidden gems, or if taking you to a well-known attraction, ensure you visit when numbers are at their fewest.
Thoughtful gestures and personalised attention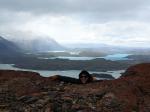 Mirador Ferrier - shortly before my reward of hot chocolate and whisky!
Alongside unique experiences, the most appreciated and human element a hotel or outfitter can invest in is their staff. Most holiday-makers expect a 'luxury hotel' to have well-trained and helpful employees that provide a good level of service and whilst this can be taught, to others it will come naturally. These are the ones you hope to find - those special personable people you remember for their friendship and effort long after you return home. I will never forget a young girl called Monica (Moni as she preferred to be called) who is one of just a few female guides working in southern Chiles Torres Del Paine national park. Employed at the spectacular Tierra Patagonia hotel, she was my guide for a solo horse-ride around Lake Sarmiento. After a thoroughly enjoyable few hours in the saddle with her, Moni asked if I would like to join her for a drink at the hotel bar. So we chatted a while longer before parting ways for lunch and feeling like I'd made a new friend. However, what really impressed me was that she had obviously taken note of my penchant for hot chocolate and whisky at the bar - for it turned out that she was guiding me the following day on an arduous climb up Mirador Ferrier, whereupon eventually reaching the top she presented me with a whole thermos of my favourite cold-weather beverage! I thought 'Wow! Now this is service' and how good of her to remember and request it especially for me. I was both touched and incredibly grateful - for it was very cold and windy standing on the precipice with views of the enormous Glaciar Grey below.
Unadulterated 'me' time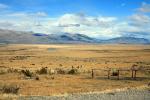 The steppe surrounding the Eolo
Rushing from one place to another in order to see as much as possible does not make for a relaxing break. Slow down and ensure you have a good number of nights in each destination - this will allow you to fully appreciate your surroundings and give yourself the opportunity to properly wind-down. At Last Frontiers we try to encourage this as much as possible and often leave days free rather than filling an itinerary with daily activities and excursions. Whether you choose to read, swim, go for a walk or treat yourself to a massage - unadulterated and uninterrupted 'me' time can be transformative for the spirit and soul. This was perhaps my greatest take away from the Eolo Patagonia hotel in Argentina whose emphasis is 'The Luxury of the Simple Things.' Set within 10,000 acres of steppe-land, the property is a paradise for contemplative outdoor activities such as bird watching, riding, biking or simply walking around the extensive grounds far from the commotion of the tourist activity in the nearby town of Calafate.
So, for your next trip, think carefully about the pace and make sure you have some down time. Get to know your guides and those looking after you - you will often reap the rewards. And lastly, pick some places off-the-beaten-track that you've never even heard of, it's likely these will be an unexpected highlight of your holiday.
To discuss your travel plans and preferences, drop us an email at info@lastfrontiers.com or call 01296 653000 - we'd be delighted to hear from you and help plan your next trip to Latin America.