Over 400 years ago Sir Walter Raleigh returned from the Americas and the common potato was introduced to our nation - thus the British love affair with the Peruvian vegetable commenced. Now it seems we are falling out of love with this larder staple. According to The Times, as a nation, we are eating 20% less spuds than we were ten years ago and sales have fallen by 7% in the last three years.
A SHORT HISTORY OF THE POTATO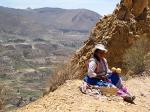 Peruvian lady with potatoes
First domesticated in the high Andes, Peru now claims to grow 4,000 varieties of potato with the most common types being yellow and white potatoes. The potato is a rather adaptable plant and, as noted by Charles Darwin, can grow at various altitudes, in areas with very little rainfall and in damp forests. Well known for its nutritional value the Incas had a great source of fast growing food which was much needed in the harsh environments in which they resided. As well as being a staple of their diet the indigenous people used potatoes for therapeutic reasons. They believed potatoes could prevent rheumatism if carried, that rubbing the juice on their skin could treat frostbite and sunburn - they even measured time based on how long it took to cook them. We thought making painting stamps out of them was novel!
PERUVIAN POTATO RECIPE: PAPAS A LA HUANCAÍNA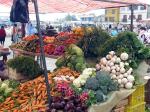 Market stall
If you feel uninspired by how we traditionally cook potatoes why not try this Peruvian delight:
Ingredients:
• 2 cooked yellow potatoes
• 2 cooked huayro (red) potatoes
• 2 cooked white potatoes
• ½ onion, cut into thick slices
• 200g fresh Manchego cheese
• 3 yellow ají (pimento) peppers, deveined and with the seeds removed
• ½ cup milk
• ¼ cup oil
• ½ a lemon
• 2 hardboiled eggs
• 4 preserved black olives
• ½ cup cooked frozen sweetcorn
• Lettuce leaves
• Salt

Method:
To prepare the Papa a la Huancaína, first peel the potatoes and cut them into thick slices. Separately fry the onion until golden. Blend the cheese, sautéed onions, ají peppers, milk and oil until smooth and creamy.
Season the cream with salt and the juice of half a lemon; then serve it over potatoes with boiled egg, olives, corn and lettuce leaves.
Recipe taken from www.peru.travel
Read The Times article in full (requires subscription): http://www.thetimes.co.uk/article/forget-the-potatoes-we-prefer-crisps-v3l7jqgm8