When asked which my favourite country in South America is I struggle and generally list my overall highlights rather than a specific country, but if pushed I think Peru might just top my list, and certainly it is the country I would recommend for a first time visitor to South America interested in culture, ancient sites, traditional markets and excellent cuisine.
It had been a few years since my last visit but it instantly felt like a homecoming as I landed in Cusco on a sunny day in May and was welcomed by our local partners on arrival. It was an added bonus to be arriving into Cusco (rather than routing via Lima) having taken one of Avianca's new Dreamliners to Bogota and connecting directly from there (now possible on a daily basis).
The Sacred Valley of the Incas
Lounge at Inkaterra Hacienda Urubamba
As we generally recommend to our clients, I headed straight out into the Sacred Valley of the Incas, a few hundred metres lower than Cusco and therefore a better place to acclimatise to the altitude. My home for a few nights was the beautiful Inkaterra Hacienda Urubamba, set on a hillside between Pisac and Urubamba. The property has beautiful rooms (either in the main building or little 'casitas' on the hillside), extremely attentive staff and excellent meals. As with all Inkaterra properties, there were a number of included excursions available for guests to take advantage of, and I visited the ecological farm below the hotel where much of their vegetables are grown.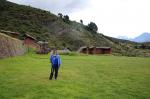 Lizzy at Huchuy Qosqo
I revisited the sites of Moray and Maras and visited a fascinating weaving community in Chinchero. Then there was Hacienda Sarapampa, a third generation owned farm where they grow the Andean large white corn and were harvesting at the time. I also spent a day hiking to the wonderful Inca archaeological site of Huchuy Qosqo; not the easiest of hikes for a 42 year old unused to walking at altitude (or uphill for that matter), but very rewarding as the scenery is stunning. En-route we passed fields of wildflowers, villagers harvesting potatoes (it was donkey rush hour on our return!) and a natural gully with a beautiful waterfall. The archaeological site itself is made principally of adobe and so is very different to other sites in the area. Due to its remoteness (and access only on foot) my guide and I only had to share it with a handful of other visitors.
Machu Picchu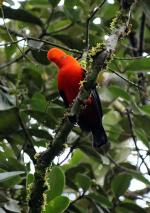 Andean Cock of the Rock
Having visited Machu Picchu a couple of times before, I had missed it out on my last visit to Peru so it was a must this time and disappoint it did not - even on visit number three it was still 'wow'. As you may be aware, from July 2017 the governing bodies of Machu Picchu have introduced new regulations whereby visitors will be given a time slot of either 0600-1200 or 1200-1730 and should be accompanied by a guide. This is initially for a trial period and it is difficult to predict exactly what will happen during or after this trial but we trust that all is being done for the good of protecting the site and controlling the number of visitors.
Saffron crowned tanager
I spent a night here at another Inkaterra property, the Inkaterra Machu Picchu Pueblo Hotel, where I rose early for a morning birdwatching tour and was very lucky to see the Andean Cock of the Rock. I am by no means an avid birdwatcher, but I do like birds and this (along with the Resplendent Quetzal, which I am still yet to spot) was on my wish list. Some more photos from my birdwatching tour can be seen here www.lastfrontiers.com/peru/regions/machu-picchu
Cusco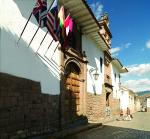 Belmond Palacio Nazarenas
I then headed to Cusco where I stayed at the Belmond Palacio Nazarenas hotel, which is just stunning, and the only hotel in Cusco with an outdoor (heated) swimming pool. Each room also has a butler service and you can request your butler to come and make you a Pisco Sour. I also visited some of the newer hotels such as Quinta San Blas and El Retablo, all of which had their own particular charm and can be recommended.
If you haven't yet been to Peru, please do give it due consideration as it is a fascinating destination and much can taken in within a couple of weeks. There is a great selection of hotels, the people are incredibly friendly and guides very knowledgeable and passionate about their country and its history.
Personally, my preferred times of year are September to October or April to May. The UK summer time in general is a good time to visit so perfect for families, but of course it can get busy when coinciding with school holidays.
Feel free to give us a call to discuss details, we have lots of suggestions on places to stay and things to do (I am a big fan of hiking in the lesser-known areas of the Sacred Valley).
In my next article I'll be writing about the new Belmond Andean Explorer overnight train from Cusco to Puno (I was lucky enough to be on board the very first departure), more from Lake Titicaca and a surprisingly good visit of Lima (the sunshine makes all the difference!).