Andean Explorer train by Belmond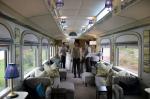 The piano bar and staff
As I boarded the new train at Cusco's station, on the very first departure for the one night 'Spirit of the Water' itinerary, I felt very fortunate indeed. Once on board all guests were greeted in the piano bar (yes, there is a baby grand piano on board!) with a welcome drink and as we set off we were each shown to our cabins. Asides from the piano bar, there is also an observation deck and bar at the rear of the train, from where you can enjoy the views and wave at locals. There is plenty of time to relax and meet fellow travellers, with extremely attentive staff on hand at all times, always ready with another drink or snack. Following a delicious lunch in one of two dining carriages we disembarked in Tinta from where we travelled to the fascinating Inca site of Raqchi. Back on board we were treated to afternoon tea before stopping at La Raya, the highest point on the journey, for sunset and a chance to visit the delightful village church. Hot drinks were then served back on board to warm us up, followed by pre-dinner cocktails in the bar. After another sumptuous meal most were ready for bed, as the train continued through the centre of Juliaca.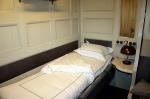 Twin cabin
I stayed in a twin cabin, which although comfortable, was quite small and the bed short. If available, I would recommend opting for one of the suite cabins, which have a fixed, larger bed and are also closer to the communal carriages so there is less of a walk. The train also features a spa carriage. It is a truly wonderful way to experience the high plains of Peru, with service on board that is second-to-none.
For those who don't particularly fancy a night on board, there is also a very comfortable day train which does not make any stops, called the Peru Rail Titicaca train (operating three times a week). Lunch is included and the journey takes around 10 hours.
Lake Titicaca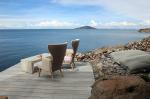 Amantica Lodge
It was a real treat to wake up on board the train to magnificent views of the lake, and following a hearty breakfast I was ready for my boat trip. A boat was ready and waiting and off I headed to Amantani. I hadn't been to the island since 2000 (as a backpacker), when I had stayed with a local family who had a long drop toilet with a pig down below! This time I went to visit the beautiful Amantica Lodge, a unique property on the island as it has just two rooms and guests have sole use. A chef creates meals from the kitchen next door and a variety of excursions and experiences are offered. Although far from luxurious, the lodge is in a beautiful setting with stunning lake views and would be the perfect place to relax and slow the pace of a trip down a little.
www.lastfrontiers.com/hotels/peru/lake-titicaca/amantica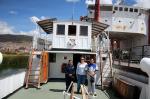 Lizzy and the engineers on Yavari
I also visited the wonderful Yavarí steam ship (which was moored at the Puno docks) - one of those things I'd heard about for years, but had never had the chance to visit. The vessel was commissioned by the Peruvian government in 1861 and in 1862 the ship, in kit form, along with eight British engineers, set sail for Peru. From the coast to the lake was supposed to take 6 months but it actually took 7 years before all of the pieces finally made it to Puno. Undergoing various changes during her time sailing on the lake, mostly carrying cargo, she fell into disrepair before being 'rediscovered' in 1982 by Meriel Larkin who since then has worked tirelessly to bring her back to her formal glory. Today visitors can explore on board accompanied by one of the ships engineers. A truly fascinating visit that I would highly recommend.
Lima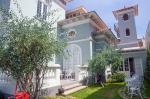 Villa Barranco
Up until this trip I had only ever seen Lima under a grey cloud and it was wonderful to enjoy it in the sunshine. As well as revisiting some places of interest I also saw some of Lima's latest hotel additions, staying at the wonderful Hotel B in the trendy Barranco district. Barranco was formerly the seaside retreat for Lima's wealthy, who owned mansions here during the 19th century. Many of these properties are now being transformed into boutique hotels, restaurants and museums; indeed, the owners of Central restaurant have just brought a property here so we should also see some exciting restaurant openings. I also visited Villa Barranco, a lovely alternative to Hotel B for those who want something a bit quieter and more of a home from home.
www.lastfrontiers.com/hotels/peru/lima/hotelb
www.lastfrontiers.com/hotels/peru/lima/villa-barranco
I ended the trip on the rooftop of Hotel B looking out to an ocean sunset, reflecting on what a wonderful trip it had been, and how lovely it was to return to Peru.