Costa Rica is well known for having two seasons, the high (or 'dry') from December to April and the rainy or 'green' season between May and November. When is the best time to visit? The typical 'dry season' response ignores the fact that with such diverse ecosystems, Costa Rica can be a year-round destination and the best time to visit depends on what you hope to see and do. If you're looking for lush and verdant rainforests, seasonal wildlife, quiet beaches and luxury for less, the green season should be top of your list. Here are just some of the highlights:
Turtles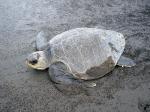 An Olive Ridley Turtle on Ostional beach
Towards the end of June, Olive Ridley turtles begin arriving at Ostional beach (Nicoya Peninsula) en masse, where they come ashore to lay their eggs. The event, known as 'arribada' usually occurs around a week before the new moon, on one of the darkest nights. On the opposite side of the country, the green sea turtle nesting season begins in July, so a visit to Tortuga Lodge in Tortuguero is a great addition to any itinerary. Those hoping to see turtle hatchlings making their first steps towards the ocean should stay here in September.
Tortuguero hotels: www.lastfrontiers.com/hotels/costa-rica/tortuguero
Rafting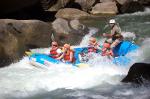 Sue Morkill tumbling down the rapids of the Pacuare river
As the green season progresses, downpours are usually concentrated and heavy in the afternoons, but this shouldn't put you off. As rainfall increases and rivers swell, rapids are even more exhilarating so a white-water rafting adventure to Pacuare Lodge is sure to entice the thrill-seekers. The Pacuare river, descending from the eastern slopes of the Irazu Volcano and flanked by towering walls of greenery, is ranked as one of the top 10 rivers for white-water rafting in the world!
Pacuare Lodge: www.lastfrontiers.com/hotels/costa-rica/the-central-highlands/pacuarelodge
Whales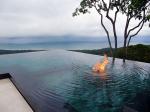 Infinity pool at Kura Design Villas
In August, Dominical (South Pacific), which receives relatively few visitors in comparison to other areas of Costa Rica, is a hotspot for wildlife enthusiasts as humpback whales gather in Marino Ballena National Park. The annual Whale and Dolphin Festival takes place here in September to mark the height of the whale watching season. What better place to base yourself than Kura Design Villas, overlooking the famous Whale's Tail Beach.
Manuel Antonio and Uvita hotels: www.lastfrontiers.com/costa-rica/regions/jaco-to-uvita
Coffee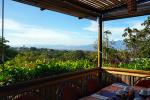 View from the restaurant at Finca Rosa Blanca
If like me, coffee is an essential part of your day, the green season in Costa Rica doesn't get much better. October marks the beginning of the harvest, so visiting a coffee farm is all the more interesting. And with those afternoon downpours almost guaranteed, it's the perfect excuse to brew some hand-picked coffee and relax on the terrace with a book. Stay at Finca Rosa Blanca, learn about the production process and taste some wonderful organic coffee.
Finca Rosa Blanca: www.lastfrontiers.com/hotels/costa-rica/san-jose-and-surrounds/rosablanca
Surfing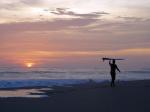 A sunset surf at Nosara beach
With increasing swells off the beaches of Santa Teresa on the Nicoya Peninsula, and Puerto Viejo on the Caribbean coast, the green season couldn't be better for surfers to get out and test their skills. On the other hand, if riding waves isn't your idea of a holiday you can always observe from the beach, which is sure to be less crowded than in the dry season. The best of both worlds can be found at Flor Blanca in Santa Teresa.
Nicoya Peninsula hotels: www.lastfrontiers.com/costa-rica/regions/the-nicoya-peninsula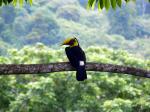 Toucan
Still concerned about the green season rain? Just remember that Costa Rica has a tropical climate, so you are never guaranteed to escape it, even in the so-called 'dry' season. December to April is undeniably a great time to travel, but with high temperatures and relatively little rainfall come high prices and limited availability. Our carefully-planned itineraries and expert knowledge can help you make the most of Costa Rica at any time of year.