The word glamping is an amalgamation of two words - 'glamorous' and 'camping,' and whilst relatively new to the English language it has grown rapidly in popularity over recent years. The idea of adventuring to remote and far-flung lands to immerse oneself in nature is made all the more enticing when you can return to luxury at the end of the day. This upscale approach to sleeping under the stars offers the chance to experience first-hand some of the most incredible corners of Latin America, without having to forgo the comfort of a double bed, duvet and first-class service.
From the emerald waters and white-sand beaches of Costa Rica, to the snow-capped peaks of Patagonia, Latin America is the perfect destination for your next glamping escape. Whether you're looking to walk among giant tortoises in the Galapagos Islands, explore the striking Bolivian salt flats, or sip wine by day and stargaze by night in northern Chile - a luxurious basecamp awaits.
Galapagos Safari Camp - Santa Cruz Island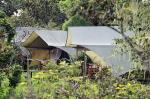 Though a live aboard cruise is a popular choice for a Galapagos adventure, cruising doesn't suit everyone. Luckily, Galapagos Safari Camp gives you the perfect excuse for opting for a land-based stay (not to mention a perfect excuse for extending your stay after a cruise). This safari-style tented camp is set amidst a 55 hectare farm in the highlands of Santa Cruz, with incredible views over the Pacific ocean, and the western and northern Galapagos Islands. The farm is within a 'transition zone' at 480m above sea level, in an area rich in birdlife. It even has its own giant tortoise reserve. There are 9 stylish teak-floored tents, with an en-suite bathroom and a balcony peering over the verdant valley.
See: www.lastfrontiers.com/hotels/galapagos/santa-cruz/safaricamp
Patagonia Camp - Southern Chile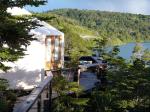 Torres del Paine National Park in Chilean Patagonia is bursting with places to stay, yet many hotels still get fully booked up to a year in advance of peak season. It's no surprise really, when you consider that there are few places on earth as scenic and spectacular as this. Patagonia Camp is just outside the park and on the shores of the glistening Lake Toro, with fabulous views of the Paine Massif - a picture-perfect view to wake up to. Each yurt has a private bathroom with hot water, and a skylight in the roof so you can see the pristine Patagonian night sky. Some even have their own hot tub on the veranda, a welcome invitation after a full days' hiking.
See: www.lastfrontiers.com/hotels/chile/torres-del-paine/patagoniacamp
Kachi Lodge - Bolivia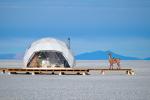 For intrepid travellers, venturing into the wilds of the Uyuni Salt Flats is, and has long been a bucket-list adventure. This area takes in Bolivia's most captivating scenery - distant mountains and desert-like landscapes; tiny colonial villages and dazzling salt-lakes of white hexagonal crystals, all enveloped by an aqua-blue sky. The remote and desolate nature of the area however, goes hand-in-hand with rustic accommodation and basic facilities, until recently that is. A new concept has landed in Bolivia, opening up the salt flats to a new demographic - the luxury traveller. At an altitude of 3,600m, and at the foot of the Tunupa volcano sits Kachi Lodge. The 6 geodesic domes have views across the salar, and clear roofs for stargazing at night. They are stylish and cosy, with wood-burning stoves to keep warm on a cloudless evening, carpeted floors and private bathrooms.
See: www.lastfrontiers.com/hotels/bolivia/salar-de-uyuni-and-the-southern-deserts/kachi-lodge
Elqui Domos - Northern Chile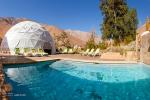 With clear skies 300 days of the year, the Elqui Valley has been chosen as the ideal site for astronomical observatories, both by Chilean and International organisations. The valley is also at the heart of wine and pisco production in Chile - who wouldn't want to wine taste all day, and star-gaze all night? The Elqui Domos is a unique destination being one of only seven astronomic hotels worldwide, and the only one in the southern hemisphere. There are seven two-storey domes with retractable roofs, allowing you to lie in bed and gawp at the star-spangled sky at night, and wake to the fresh blue skies and blazing sun in the morning.
See: www.lastfrontiers.com/hotels/chile/la-serena-and-the-elqui-valley/elquidomos
Kasiiya Papagayo - Costa Rica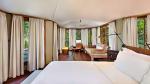 On the west coast of Costa Rica, just two hours' drive from the Nicaraguan border sits the Papagayo Peninsula. It is home to some of Costa Rica's best beaches, with huge stretches of largely unspoilt coastline, popular with surfers and holidaymakers alike. Combining nature with barefoot luxury, Kasiiya Papagayo is a chic tented camp surrounded by 55 hectares of tropical dry forest and straddling two pristine beaches where whales and dolphins can be seen passing by. The tented suites are spacious and comfortable with beach or forest views, and were designed with nature in mind. The minimalist yet stylish décor means there are no distractions from the natural surroundings. Spend the days kayaking, snorkelling, hiking and stand-up paddle boarding.
See:www.lastfrontiers.com/hotels/costa-rica/the-nicoya-peninsula/kasiiya-papagayo