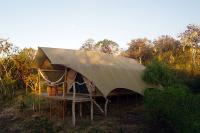 Galapagos Safari Camp
Location
Highlands, 25 km from Puerto Ayora (Santa Cruz (Indefatigable), Galapagos)
Description
A luxury tented camp on a 55 hectare farm in the highlands of Santa Cruz (altitude 450 metres) with views over the Pacific and western and northern Galapagos islands. There is an infinity pool and a viewpoint terrace, and the main lodge has a lounge, library, bar and restaurant, serving fresh, organic, home-grown food. 10 hectares of the farm has been dedicated to reforestation, and they have reintroduced some endemic tree species.
Activities
Relax, admire the views and local wildlife. Giant tortoises are often found nearby. Riding available locally. Various packages are available that can include local tours or boat trips to nearby islands.
Accommodation
The 9 safari-style tents are spacious (27 square metres), have electricity, ensuite bathrooms, and balconies. The Owners' house (not a tent!) is also available as a family suite, with lovely views from a wrap-around veranda.
Our comments
Stephanie Bonham-Carter and Michael Mesdag have realised their dream! Perfect for a rest before or after a Galapagos cruise, or as part of a land-based Galapagos visit. Real attention to detail.
When to go
Warmest (and wettest) December to June, garua (mist) season (September to November) tends to be more benign than elsewhere due to the local microclimate.
Client comments and reviews
The Safari Camp was a brilliant suggestion and we enjoyed it both ends of our visit to the Galapagos. It was real glamping with the most tastefully designed tents and main building. Stephanie and Michael were very welcoming and absolutely charming as were all their staff. Here we experienced the best food throughout the whole of our stay in Ecuador. They had a brilliant couple of young chefs who were keen to experiment on new combinations of food and the result was absolutely delicious. We would certainly recommend this to anyone visiting the Galapagos. - CH (February 2013)