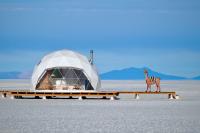 Kachi Lodge
Location
Salt Flats (Salar de Uyuni and the southern deserts, Bolivia)
Description
A unique dome lodge in a privileged position at the foot of Tunupa volcano, on the Uyuni salt flats and at an altitude of 3,600m above sea level. Surrounded by desert wildnerness, the hotel has unobstructed views across the salar and the star-spangled sky above. A boardwalk connects individual domes to the main one, where meals are eaten.
Activities
Visits to the village of Conquesa, the archaeological site of Alcaya and Salinas where the locals collect salt from the salar. Hiking to the lower lip of Tunupa volcano crater and riding mountain bikes across the salar. There is a telescope available to use at night.
Accommodation
The six geodesic domes have clear roofs for optimal stargazing. The interior is luxurious yet cosy, and each dome has heating, carpeted floors and a private bathroom.