In September I took off on my third trip to Brazil - an exciting one as Rio finally featured in the itinerary (I was beginning to feel like a bit of a fraud flouting my Brazil knowledge having never visited its most popular and iconic city). My two weeks of travel started in Iguassu with Travel Market Latin America, which was a great opportunity to catch up with our Latin American suppliers and all the latest news. Afterwards I explored the (predominantly coastal) stretch from São Paulo to Búzios (just north of Rio) with a couple of nights in the interior of Minas Gerais at Ibitipoca.
Paraty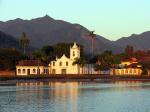 Paraty
From Iguassu I flew back to São Paulo and travelled overland to the colonial port town of Paraty. A beautiful little spot of cobbled streets, white-washed buildings and pretty churches set against a dramatic backdrop of the Atlantic rainforest of Brazil's Emerald Coast, Paraty is the perfect spot for a bit of rest and relaxation, neatly positioned between two of Brazil's largest and most lively cities: Rio de Janeiro and São Paulo. Whilst coastal, I think more boats were lined up in the marina rather than the more inaccessible sandy shores. That said there are plenty of secluded beaches that can be reached by boat on a day trip from town. Or one can stay across the water at the wonderful, remote Casa Cairuçu (owned by our very own ex-LFer Simon Heyes) from where you can walk or swim to a variety of gorgeous beaches, the closest just three minutes away. In town itself, stay at the tasteful, Pousada Literaria, whose large, enticing swimming pool makes an excellent alternative to seaside chilling and puts you just steps away from the rich cultural scene of Paraty.
Ilha Grande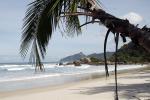 Ilha Grande
Next stop was the rustic, yet enchanting Ilha Grande, reached by a combination of bus and boat in three to four hours from either Paraty or Rio. I felt that Ilha Grande was reminiscent of Morro de São Paulo on the tip of the island of Tinharé in the Bahia region: tropical, touristy and quite Mediterranean in feel. Ilha Grande seemed smaller, simpler and more authentic to me, yet on the flipside less luxurious (barely a swimming pool in sight!) and of course it does get cooler over Brazil's winter months whilst the more northerly Morro barely drops below 20°C. Sagu Mini Resort is a beautiful property perched overlooking the ocean and neatly positioned between the town centre and some of the island's nicest beaches (a fifteen minute walk in either direction).
Rio - Santa Teresa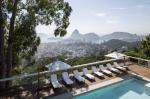 Vila Santa Teresa
My first introduction to Rio was not the famous shoreline nor the central downtown but Rio's bohemian neighbourhood of Santa Teresa, sprawled out across the hilltops overlooking the city. Of course from here you are far further from the action of Rio's popular beach scene but this part of town does offer a cool, artsy vibe - cobbled winding streets past ageing mansions in varying states of repair or disrepair, the breath-taking views out across Rio becoming ever more spectacular with the climb. Parked cars line the already narrow roads, rusty old bangers sit cheek-to-jowl with shiny new vehicles, as foul-mouthed graffiti jostles for space with colourful, creative street art along the walls. There are a handful of lovely hotel options, which offer far more character than the high rise buildings of the beach front. My first night was spent at the exclusive Vila Santa Teresa a private residence of the Monteiro de Carvalho family, which has been lovingly transformed into a beautiful hotel.
Ibitipoca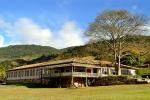 Ibitipoca
Three and a half hours by car from Rio heading inland to the state of Minas Gerais, so called for its wealth of natural minerals and known for its ornate, colonial gold-rush towns, we came to my base for the following two nights, the beautiful Reserva do Ibitipoca. Set in over 3,000 hectares of rolling hills, waterfalls, caves and natural pools, the main building of hotel is a colonial-style farmhouse built in an environmentally way in the style of the original 18th century building.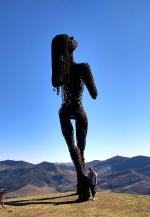 Claire, overshadowed.
The hotel is just one small part of a much bigger project, the aim of which is the reforestation of native flora species and to expand the habitat of animals in the region, many of which are endangered. The reality is all the beauty of a national park but miles of trails without seeing a single soul, since the land is all private.
It is also full of fun surprises. One example is the amazing art work of Karen Cusolito whose gigantic metal structures the owner saw at a Burning Man festival.
Rio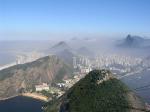 Rio
Back to Rio and this time to the beaches they sing about! My second stay was on Leblon beach, the quietest end of the Copacabana-Ipanema-Leblon stretch, in the spacious Marina All Suites. Apparently the most popular postcode for well-to-do cariocas, Leblon has only a handful of hotels to Ipanema's tens and Copacabana's hundreds. The beachfront is quieter but that is not to say that there are not an array of fine dining options in the backstreets, including Rua Dias Ferreira, one of Rio's leading gastronomy streets. My time in Rio de Janeiro stretched to little more than a pit stop at the most iconic sights - Corcovado and Sugar Loaf mountain, the Selaron steps and a whole host of hotels! Even in my short time, it was hard not to be impressed and impossible to think of a more scenic city than Rio – wedged between the luxuriant green hills in the background and the miles of golden sandy beaches, all overlooked by the iconic art deco statue of Christ the Redeemer.
B˙zios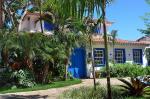 Vila da Santa
My final night was spent in the seaside resort of Búzios, a couple of hours drive north of Rio. This peninsula is home to three separate towns: Manguinhos, Ossos and Armação de Búzios and boasts between 17 and 26 beaches (according to your source!). The first of the three is the rather ugly commercial part, Armação is the heart of the peninsula, home to the beachfront promenade and main scene, and pretty Ossos - on the northern tip of the peninsula - is the oldest area. Put on the map by Brigitte Bardot, who 'discovered' the low-key beach spot in the 1960s. A regular haunt of hers back in the day, it soon earnt itself the reputation of the St Tropez of South America and Búzios has not forgotten to whom it owes its popularity. In my rather grey 24 hours in town I found portraits of the famous French bombshell as hard to avoid as the rains! I was exceptionally unlucky with the weather in my time there but what was still apparent is that Búzios is still the spot for those looking for a real beach resort within striking distance of Rio and with all the creature comforts!
The perfect complement to my previous Brazil trip which explored the coasts of the north-east, this fortnight gave me a real insight into the options further south. It also served to renew my passion for the Brazilian people, culture and gastronomy. Now to master some Portuguese (and self-restraint on the pão de queijo front)..