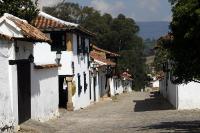 La Plazuela de San Agustin
Location
Villa de Leyva (Villa de Leyva, Colombia)
Description
A small, simple but charming guesthouse opposite the plaza and cloisters of San Agustin close to the centre of town. Once a family home, the rooms and communal areas are set around two cobbled patios with tables and chairs shaded by trees and plants. There is a comfortable living room with a large fireplace full of character and decorated with countless books, family heirlooms and antique furniture.
Accommodation
There are 20 traditional rooms, many of which open onto the patio, and though a good size, the décor is slightly dated.
Our comments
Full of character, the hotel keeps very much in line with the feel of Villa de Leyva with its cozy, laid-back, colonial charm though service can be slow and little English is spoken.