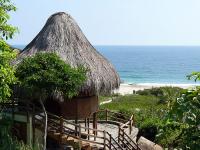 Eco-habs
Location
Tayrona National Park (Santa Marta and Tayrona, Colombia)
Description
The Eco-habs are beautiful round huts perched on a hillside overlooking a long and wild beach where, in May, turtles come to lay their eggs.
Activities
A spa tent overlooks a small swimming beach, with chairs, umbrellas, and beach service. The lodge has a turtle release programme on the neighbouring beach (on which, due to dangerous undertow, swimming is not permitted). A string of further beaches stretch west, the first of which, Arrecife, is a 45 minute walk away (horses or mules available for hire).
Accommodation
3 smaller and 11 larger huts, with upstairs bedroom with all round views, and a downstairs sitting area with hammock, and bathroom.
Our comments
Idyllic.
Client comments and reviews
The Ecohabs were lovely. What a stunning spot. We had originally planned to have a trip on the middle day but in the end we just did our own sweaty walks each day - to Cabo San Juan, then the 9 Stones walk the other way, and finally back to La Piscineta for a swim. The hotel beach was closed for swimming, red flag. - SH (January 2016)
Just got to Tayrona which is stunning -- really beautiful here. The hotel is in a beautiful spot ? long hike to and from the restaurant from the rooms ? but a nice spot. - MD (January 2009)