This adventurous trek takes guests on a 120km journey from the centre of Cusco all the way to Machu Picchu, entering via the iconic Sun Gate (Intipunku). Hiking off-the-beaten track, through traditional Andean villages and across remote Inca sites, the itinerary allows one to experience the captivating scenery and culture of this region. Several archaeological sites are visited along the way, whilst following a variety of paths, including part of the ancient Antisuyu Inca Trail which heads towards the Amazon jungle.
This is an advanced-level trek that that allows guests to experience Peru's spectacular scenery from a unique perspective, and is ideal for those looking for a challenge. Some nights are spent at comfortable mountain lodges, and others are spent camping under the stars with basic facilities.
Pre-departure Day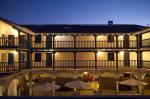 El Mercado Hotel, Cusco
A trip briefing with the guide and fellow hikers is held at the hotel in Cusco. We would recommend spending a few nights in Cusco prior to this, to acclimatise to the high altitude and prepare for the days ahead. The first couple of days of the trek are quite intense so this is essential to get the most out of the experience.
Day 1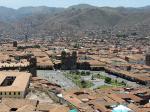 View of Cusco from Sacsayhuaman
Leaving the founding site and heart of the Inca Empire, Plaza de Armas, pass through the San Blas art district to the Inca site of Sacsayhuaman which overlooks Cusco. After exploring, continue on to the first campsite beside the beautiful Piuray lake, surrounded by colourful patchwork fields.
Distance: 19km (8 hours) |Ascent: 909m | Descent: 697m | Accommodation: Camping at Piuray lake
Day 2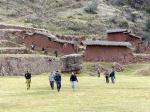 Huchuy Qosqo
Kick-start the day with an early morning kayak across the lake to begin the challenging hike to Huchuy Qosqo. This wonderful Inca site features predominantly adobe (mud) buildings and can be only be accessed on foot, so with any luck visitors will have the whole site to themselves. Hike downhill to Lamay Lodge in the Sacred Valley.
Distance: 17km (8 hours) | Ascent: 762m | Descent: 1,496m | Accommodation: Lamay Lodge (www.lastfrontiers.com/hotels/peru/sacred-valley/lamay)
Day 3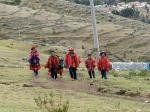 Children on the Huacahuasi trek
Following a short drive from Lamay lodge to Ayarcancha, hike over a high mountain pass to reach the archaeological site of Pisac. Explore the site before continuing downhill to Pisac town (where there might be time for some shopping at the market), before driving back to Lamay Lodge.
Distance: 13km (7 hours) | Ascent: 711m | Descent: 1,435m | Accommodation: Lamay Lodge
Day 4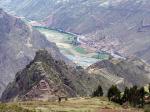 Above Pisac ruins
Depart the lodge for a short drive to the town of Huaran. Set off on another challenging hike, along an ancient Inca trail to the remote village of Cancha Cancha.
Distance: 9km (6½ hours) | Ascent: 977m | Descent: 0m | Accommodation: Camping at Cancha Cancha
Day 5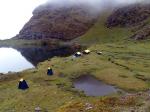 Lunch by the lake
Hike from Cancha Cancha up to the Pachacuteq pass, before continuing downhill to the remote village of Quiswarani.
Distance:11km (6 hours) | Ascent: 735m| Descent: 862m | Maximum altitude: 4,540m | Accommodation: Camping at Quiswarani.
Day 6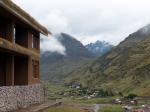 Huacahuasi Lodge
Set out on a morning hike to the Sonqococha lagoon, and on to Quelquena. After a brief rest, embark on the final hike of the day to Huacahuasi Lodge.
Distance: 12km (8½ hours) | Ascent: 877m | Descent: 894m | Accommodation: Huacahuasi Lodge (www.lastfrontiers.com/hotels/peru/sacred-valley/huacahuasi)
Day 7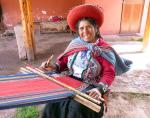 Andean weaver
Transfer to the remote village of Choquecancha, known for its beautiful Andean textiles, before setting off on a hike to Jaukani. Continue to the secluded pre-Inca site of Yukumarka, finishing the day with a drive back to Huacahuasi.
Distance: 9km (5 hours) | Ascent: 575m | Descent: 790m | Accommodation: Huacahuasi Lodge
Day 8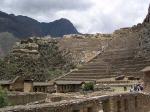 Inca fortress
Depart at dawn on a hike to Patacancha from where guests are driven down the valley to the site of Pumamarka. Take a gentle hike past Inca terraces down to the town of Ollantaytambo.
Distance: 20km (8 hours) | Ascent: 776m | Descent: 1,233m | Accommodation: El Albergue hotel
Day 9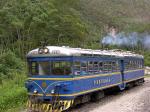 Train to Machu Picchu
Take a morning train from the station right next to the hotel, disembarking at 'km104' the starting point for the classic 'One day' or 'Royal' Inca Trail. Hike up to the site of Winay Wayna and along to the 'Sun Gate' for the first glimpse of the ancient citadel, Machu Picchu. Continue to the site and take a bus down to the town of Aguas Calientes.
Distance: 9km (6 hours) | Ascent: 786m | Descent: 492m | Accommodation: Inkaterra Machu Picchu Pueblo Hotel (see: www.lastfrontiers.com/hotels/peru/machu-picchu/machupicchu)
Day 10 - final day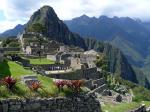 Machu Picchu
Take an early morning bus ride up to the site of Machu Picchu for a guided tour. There is also an option to hike up Huayna Picchu Mountain, for a birds eye view of the citadel. Take the afternoon train back to Ollantaytambo, and drive to Cusco.
Distance: 4km (3½ hours) | Ascent: 279m | Descent: 0m | Accommodation: Own arrangements in Cusco
Prices for 2021 start from £5,630 per person based on a total of 4 nights at El Mercado in Cusco (3 prior to and 1 following the trek) plus the trek. Based on two people travelling and sharing a room/tent throughout. Includes all transfers, breakfast in Cusco and all meals on the trek. International flights included from London.
There are set departure dates in March, April, July, August, October and November. For more information and specific route details please get in touch. We can also extend the trip to include other areas of the country.
Mountain Lodges of Peru, who operate this trek, also have alternative options available - please see our 'Walking in Peru' itineraries: www.lastfrontiers.com/itineraries/walking-in-peru