Welcome to a spring update from Last Frontiers: our 20th newsletter for our 20th anniversary! In this issue:
♦ Canyons and coasts - Sue and Ed in Brazil ♦ Culture and Caribbean - Claire in Guatemala and Belize ♦ Beyond the Canal - Oli in Panama ♦ Galapagos update ♦ Last Frontiers in the press ♦ News from the office ♦ Last Frontiers events - Goddards (Surrey) in June
Canyons and coasts - Sue and Ed in Brazil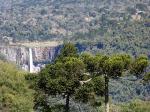 The Cascata do Avencal
Sue and I were in southern Brazil, where we drove from Porto Alegre (aided, or not, by a GPS) to Florianópolis. Our first stop was the wine region: when I lived in Brazil the wine was pretty undrinkable but things have certainly changed - several of the boutique wineries we visited had received well-deserved international awards. We discovered several new hotels in the Serra Geral (a temperate plateau that rears above the Atlantic coast, bisected by deep canyons and topped by monkey puzzle trees, ideal for riding and walking).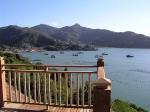 Ponta dos Ganchos
We then visited two stunning beach hotels: Ilha do Papagaio is the only hotel on a private island just south of Florianópolis, while Ponta dos Ganchos, just north of the city, can justly claim to be one of Latin America's finest resorts - nothing is too much trouble and their breakfast tasting menu just has to be experienced.
Sue then continued to the hills inland from Rio where she discovered a real gem - the Reserva do Ibitipoca.
Read her full Ibitipoca report.
Culture and Caribbean - Claire in Belize and Guatemala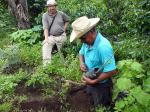 Planting a lemon tree near Antigua
Beyond the Canal - Oli in Panama
Panama canal railroad locomotive
Oli writes: "Last September I was lucky enough to be invited to Panama to sample a few of the highlights of this spectacular country. I spent a few days in the historic Casco Antiguo, the old part of Panama City, and discovered a couple of outstanding hotels: Casa del Horno [now sadly closed] and Las Clementinas as well as some excellent restaurants, galleries and salsa bars (the local rum, Abuelo is rather tasty). My highlights included snorkelling in the clear waters of Bocas del Toro, a partial transit of the Panama Canal and riding through the green conical mountains and rugged coastline on the Azuero peninsula. This is a fascinating country with plenty to offer in terms of history, culture, fine cuisine and an array of landscapes, but also places to escape the crowds and unwind."
Galapagos update - new itineraries
Giant tortoises
You may have heard that the Galapagos National Park authorities have changed the rules on yacht itineraries so that each visitor site receives a more controlled number of visitors. This has made our lives more complicated as all yachts now have a bewildering choice of itinerary, but we think it will be positive and actually opens up the possibility of combining both land and sea visits and gaining a more balanced view of the natural history and human story of these fascinating islands.
Last Frontiers in the press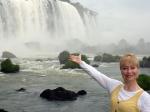 Sian in Iguassu
Sian Lloyd and her husband Jonathan travelled to Brazil with us last year and their article appeared in the Mail on Sunday a couple of weeks ago. Needless to say they had a wonderful time (and the private villa that they stayed in, Casa Paraty, has since been completely refurbished).
By the way, our old colleague Simon visited the office and reminded us that his stunning house (Casa Cairuçu) in Paraty is also available for rent - his young daughter is about to start school in Bristol so they will have less time to spend in Brazil.
News from the office
Firstly the baby news: Ali has just departed on maternity leave (we wish her all the best), and Lizzy has returned from hers (Joseph thrives). We welcome new recruit Jonny and say farewell to both Jill (the commute from London finally overcame her and she is now with Orient-Express trains) and Ed, who has emigrated to Western Australia with his Aussie wife Michelle and young Max. We are still very much in touch and envy him the heat and barbecues.
Last Frontiers events - Goddards in June
We enjoyed meeting past clients at Chandos House in February, and with the help of Sue's sister Kate, Lyn Hughes (editor of Wanderlust magazine) and Ben Box (author of the South American Handbook) I gave a talk on Latin America at Foxhills in March. Our next event will be at the historic Goddards (Abinger Common, Surrey) on Sunday 24 June. Built by Edwin Lutyens this is a stunning building and well worth a visit in its own right. We are very grateful to the Landmark Trust for allowing us access and will send more details nearer the time - but we expect to be there from 11am to 4pm.
For those of you who enjoy social media we now have a Facebook page and even tweet (@lastfrontiers) occasionally. No substitute for the level of detail on our web site but excellent for more light-hearted news (and the odd rant!).
Finally, it nearly escaped my attention that we have just passed our 20 year milestone. I would like to thank my wonderful team who have made it all possible, and of course our loyal clients without whom none of it would have happened!
With best wishes from Edward and all at Last Frontiers
Edward Paine
Last Frontiers Limited
Email: info@lastfrontiers.com
Web: www.lastfrontiers.com
Tel: 01296-653000
"We had a wonderful holiday - thanks for all your arrangements. Everything went really smoothly and we would certainly recommend your services to anyone else travelling to Latin America, it was clear how well you know the area and accommodation. Thank you so much for a job well done!"