After a 4 hour journey by road from Rio de Janeiro I arrived to Reserva do Ibitipoca, a special new find for Last Frontiers. I was given a wonderful welcome by the friendly staff, with drinks and delicious home-made cakes for tea - what more could one ask for? This is an isolated property, sitting at 900m overlooking a small lake in a reserve that is over 3,000 hectares. The views are great, the accommodation very comfortable and the project for tourism that began in 2009, aiming to increase local employment and increase education and qualifications in the region, is something I feel is a real asset and worth supporting.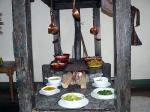 Buffet-style lunch
It reminded me of an estancia stay in Argentina or a stay at a hacienda in Ecuador - everyone was encouraged to eat 'family style' around the main dining room table but for those that want more privacy separate tables can be set. The food was superb - breakfast is eaten on the terrace outside (weather allowing but if it's a bit cold they give you a blanket!) and was an excellent buffet with eggs available to order. Lunch was also a buffet of typical/regional food from Minas Gerais - all set out around the wood burning stove to keep warm and delicious (in my opinion it was the best meal of the day with many of the veggies produced on the farm). Dinner is generally a la carte.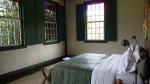 A bedroom
The 8 rooms are all slightly different with wooden floors, traditional/tasteful furniture, very comfy beds (with pristine white cotton sheets) and interesting wall hangings that reflect local handicrafts and culture. The bathrooms have under floor heating and Victorian style baths, plus L'Occitane amenities, a real treat.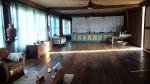 Spa and outdoor hot tub
Sitting around the open fire in the sitting room in the evenings, or the fire pit outside, created a warm, friendly atmosphere - I felt quite at home! Another bonus is the small spa where massages and yoga are available, and there is also a sauna and outdoor hot tub (great place to sit in the dark with a cold beer).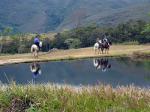 Riding at Ibitipoca
One of the main activities is riding and the best way to explore the area is on a horse. They have plenty of beautiful horses for everyone (Mangalarga and Anglo-Arabian), and horses to suit both experienced and novice riders. We went on 4 hour ride with stops at caves, waterfalls, and natural pools and at times we were riding across very poor and sandy soil. Sadly I only had time for one ride, a good reason to go back.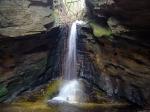 Waterfall in the State Park
The Ibitipoca State Park (1,923 hectares), only 5km away from the reserve, is a conservation area and definitely worth a visit. Due to its quartz, it is characterized by a landscape of cliffs, rocks, natural bridges, caverns, grottoes, waterfalls, orchids, bromeliads, cactus and lichens - the water has a real tannic colour and there are well-marked walking trails of varying lengths.
I would recommend a minimum stay of 2 nights and ideally 3, allowing time to relax, take in the scenery, enjoy the hospitality and do some activities. I'm looking forward to my next visit!