Welcome to our spring round-up of Latin America news and staff travel.
In this issue: Office news ♦ Last Frontiers' Top Three: Short cruises ♦ Sue in Central America ♦ Claire in Uruguay
Office news
Welcome back to Sue, who after breaking her leg badly (skiing, sadly not down a devilish black slope) is already back in the office. Farewell, for the moment, to Lizzy who has just given birth to a baby girl.
Last Frontiers' Top Three: Short cruises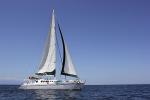 The Nemo is very good value
Sometimes a boat or small ship (carefully chosen of course!) really is the best way to explore the wilderness parts of Latin America.
Galapagos: these remarkable volcanic islands are unique in the world for the richness and variety of their wildlife. Hugely influential to Charles Darwin's theory of evolution, a visit to the Galapagos is a once-in-a-lifetime experience of nature at work. The Galapagos can be visited year round and most visits include a cruise of 5-8 days. As those of you who have already been are well aware the choice of boat and guide is vital, and we know them all so do talk to a member of the team to help with your decision.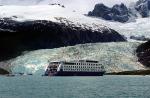 Stella Australis
Tierra del Fuego: cruise through the southern Patagonian fjords between Chile and Argentina - admiring glaciers, sea lions and the remote shores of the Beagle Channel, with the opportunity to get as far as Cape Horn. 3-4 day voyages operate on Cruceros Australis boats (www.lastfrontiers.com/hotels/chile/punta-arenas/crucerosaustralis) from October to April.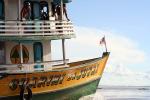 Amazon river boat
Amazon: in the steamy Amazon a river cruise is an excellent alternative to a lodge stay in either Peru or Brazil. In Brazil you can sail into the Rio Negro through the Anavilhanas archipelago, the world's largest river island system on the Tucano (www.lastfrontiers.com/hotels/brazil/amazon-lodges/tucano). In Peru you can visit the Pacaya Samiria National Reserve - only accessible by water and a haven for Amazon wildlife, plants and birds. One of the most luxurious cruise boats is the Aqua (www.lastfrontiers.com/hotels/peru/iquitos/mvaqua).
Sue in El Salvador and Nicaragua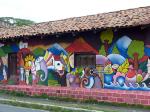 Murals in Apopa
Sue visited El Salvador and Nicaragua and returned brimming with positive feedback. Highlights of her visit were the ancient archaeological ruins, dramatic mountain scenery, steamy rainforest, active volcanoes, colonial towns, unspoiled beaches and wonderfully friendly people. The relaxed atmosphere, good roads (in most places!) and comfortable accommodation, all at a reasonable price, enhanced her experience. Read Sue's El Salvador and Nicaragua trip report here.
Claire in Uruguay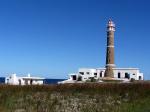 Lighthouse at Cabo Polonio
Claire jetted off for eight days in Uruguay at the end of November. Highlights included the beautiful countryside around Carmelo, the pretty cobbled streets of Colonia, a wonderful trek across sand dunes to the bohemian Cabo Polonio, buzzing Montevideo and of course the multiple vineyards and friendly people she met along the way. Read Claire's Uruguay trip report here.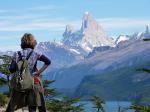 Fitzroy peaks
Finally, I have just returned from 3 weeks driving the southern Carretera Austral. I didn't tell my wife we would be covering 3,000km of mainly dirt roads, but luckily she now agrees that the scenery (and the fact that she caught a bigger trout than me) made up for it all. I will post a full report before too long, but the gastronomic highlight (amongst many) was dinner at Cassis - Patagonia's top restaurant.
With best wishes from Edward and all at Last Frontiers
Edward Paine
Last Frontiers Limited
Tel: 01296-653000 | info@lastfrontiers.com | www.lastfrontiers.com
The Mill | Quainton Road | Waddesdon | Buckinghamshire | HP18 0LP
"I am sorry I have taken so long to write and thank you for the lovely book on Latin America which you sent me earlier this month. Already I have read it twice from cover to cover and several times I've pored over the beautiful pictures which bring back happy memories every time I see them. I am so grateful to Last Frontiers for introducing me to such glorious places. Thank you." - MM