There is some wonderful riding in South America and, as a keen rider, I have jumped at every opportunity and been lucky to have ridden throughout the continent. The rides in Ecuador, Uruguay, Argentina, Chile and, most recently, Brazil have all been very special, quite different and unique.
Ecuador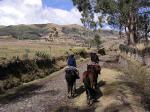 Riding along an ancient Inca highway
Riding from hacienda to hacienda in Ecuador, along ancient Inca highways and Spanish colonial routes, through pastoral valleys in the foothills of snow-capped volcanoes offered some breathtaking views. Visiting a local indigenous market on Christmas Day followed by riding around the Cotopaxi National Park, surrounding the world's highest active volcano, was very special. The snowy peaks, lunar landscapes, gallops across rolling grassy hills, and rides along mountain tracks and over high mountain passes ensured the ride was full of variety. With the option to join a small group or have a ride tailored to suit you, riding for all levels can be catered for.
Chile
A damp day in the Puelo Valley
Riding in Torres del Paine in southern Patagonia, with its sculpted granite peaks, lakes, glaciers and wildlife, and staying in authentic estancias was an unforgettable experience. With the option to stay in comfortable lodges, or even camp under the stars on some rides, there are all sorts of possibilities. A ride that will never be forgotten was the ride from Chile to Argentina through the beautiful Puelo Valley, in the Lake District, following an untouched and truly off-the-beaten-track route, much of it only accessible by horse or on foot. Along the way experience magnificent mountain landscapes, ancient forests, swim horses across rivers, ride up glacial valleys and stay in family homes.
Argentina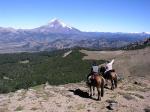 Viewpoint overlooking Lanín volcano
Staying on an estancia in Argentina also offers some very good and varied riding, for example playing polo, riding with the gauchos (cowboys), galloping across the pampas plains and viewing wildlife. Some of our favourite estancias which all have some beautiful horses, and offer a first class, personal experience include: Los Potreros a 6,500 acre family run working cattle farm in the hills 40km from Córdoba; Huechahue in the Andean foothills about 45 miles from San Martín de los Andes and overshadowed by the Lanín volcano; Rincon del Socorro on the southern edge of the Iberá wetlands; Las Viboras in the pampas, the flat and fertile plains that surround Buenos Aires.
Uruguay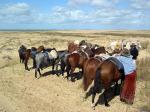 Our horses on the dunes
Uruguay is often overlooked but, in my eyes, this is unfair. Galloping across undulating grassland, along unspoiled beaches, across marshlands teeming with birdlife and past ancient forts set on coastal hills was a great experience and introduction to the country. Rides from 3 to 7 days can be organised and combined with visiting established vineyards, working estancias and dune-backed beaches.
Brazil - my latest adventure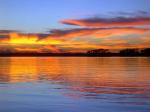 Sunset in the Pantanal
The combination of riding horses, staying in typical fazendas (farms) and viewing wildlife were all a huge attraction when I read about the opportunity of joining a 7 day ride to experience the biodiversity of the southern Pantanal in Brazil. This huge seasonal wetland, which borders Bolivia and Paraguay, attracts over 300 bird species and a range of mammals and reptiles, a paradise for someone like me who loves wilderness and wildlife! I was incredibly lucky and saw a huge range of birds, including wonderful macaws (red and green, blue and yellow and hyacinth), and capybaras, caiman, giant river otters, giant anteaters, tapir and the elusive jaguar.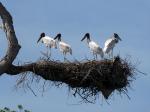 Jabiru storks in nest
The ride began with a night in a comfortable city hotel in Campo Grande from where we set off on the first leg of our adventure to Fazenda Baia das Pedras, in the heart of the southern Pantanal. The 6 hour journey in 4x4 vehicles began along a good, fast paved road and finally ended on a sandy track! It was like arriving at a small oasis in the middle of nowhere and we were given a wonderful welcome by the owner.
www.lastfrontiers.com/hotels/brazil/pantanal-lodges/daspedras
Getting ready for my first ride
After lunch and quick change it was time to meet our horses, a 2 minute walk away at the end of the garden. Never have I seen horses loose in a coral instantly form a perfect line so that the local cowboys, assisted by our guide, could select which horses were going to be ridden and who would be riding each one. We were admiring them and they were watching us. The riding was western style in Brazilian Western saddles (with plenty of sheepskin padding, good for preventing saddle sores for those of us that weren't that riding fit) and with a loose rein. Once everyone was comfortable on their horse we went on our first ride across the 18,000 hectare farm, past caiman-filled lagoons, returning at sunset.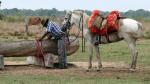 Chief cowboy and his horse
We had two further days of riding around the farm, experienced some excellent wildlife viewing, helped with cattle herding and enjoyed the first class hospitality. Saying farewell to Baia das Pedras we then rode along the Vazante de Castelo, across the open grasslands of the flood plains, past lagoons, through native forests and across several farms, towards Fazenda Barra Mansa, staying overnight in an isolated hammock camp en route.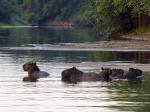 Capybaras on the Rio Negro
Fazenda Barra Mansa is another family run property which can be accessed by horse or vehicle in the dry season (May to November) and by light aircraft in the wet season. Riding is one of the prime activities, and they have some beautiful horses, but a number of other activities are also offered, including wildlife viewing by boat along the Rio Negro, guided walks, 4x4 excursions and night safaris. After 2 days at Barra Mansa it was time to say farewell to everyone, including the horses, at the end of what was another fantastic experience.
www.lastfrontiers.com/hotels/brazil/pantanal-lodges/barramansa
After the ride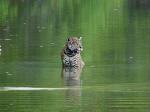 Jaguar in a lagoon at Caiman
After the ride I visited a couple of other lodges in the southern Pantanal including Caiman Ecological Refuge, on the southern edge of the Pantanal. It is part of a 53,000 hectare ranch and is involved in environmental research and conservation projects, including the hyacinth macaw project, Onçafari (jaguar) project and a blue-fronted parrot project. I had some wonderful wildlife sightings during my quick visit, including tapir and jaguar, the accommodation is very comfortable and it is within easy reach of Campo Grande by road (about 3 hours). A wonderful end to my trip.
To join a group ride in any country a reasonable level of riding experience is needed (confident at walk, trot and canter) but you do not need to be an expert. Tailored rides for both experienced and beginner riders can be organised in several areas, and a number of lodges and estancias have horses where there is the opportunity to ride - anything from 1 hour to a full day. Whether you are an experienced rider, a beginner or a non-rider we'd love to help you plan your next Latin America holiday.