Having read a few Gabriel García Márquez novels and also the Louis de Bernières trilogy (which I like to think is very loosely set in a mythical Colombia as he was an English teacher there), I was thrilled to be heading to Colombia. My trip included a visit to the south-west of the country, until a few years ago a no go area; it was once a stronghold of the 'People's Army', hence the link to de Bernières whose character runs off to join the guerrillas.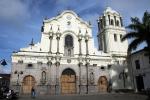 San Francisco church, Popayán
Accompanying a small group, I went first to Popayán, a city known for its whitewashed colonial buildings (all of which must be painted every year before Holy Week). Popayán is also known for having one of the country's oldest universities, founded in 1827, and the students give the city a vibrant feel (it has also produced no less than 17 Presidents, as well as numerous artists and intellectuals). The city was founded in 1537 and though many buildings were destroyed in the devastating earthquake of 1983 it still has very much a colonial feel.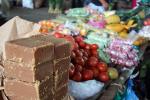 Food for sale in Silvia market
From Popayán we travelled east towards Tierradentro, stopping first to visit the market in Silvia. This market takes place weekly every Tuesday and attracts locals from the surrounding countryside to buy and sell. The local people, the Guambianos or Misak, wear traditional clothing and have their own language (Guambiano), though most also speak Spanish. They are quite shy people and visitors must ask to take their photograph (which in my experience they were very willing, and happy, to do).
The market is full of interesting produce (no tourist tat here!) and the colourful chiva buses arrive and depart packed full.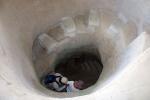 Tomb shaft, Tierradentro
From Silvia to Tierradentro it is a long drive (around 6 hours), part of which is along unpaved road. The scenery is stunning - green fields, hills and mountains. Tierradentro archaeological park was created in 1945 and declared a World Heritage Site by UNESCO in 1995, recognizing the site as a 'unique and exceptional testimony to a vanished civilization' and it truly is - from above, the site is nothing special (though the surrounding scenery is beautiful and a hike up the site alone is rewarding enough), but below small hatches are elaborate underground tombs or 'hypogea' which were in use between 600 and 900 AD. Descending a shaft into a chamber via a roughly hewn spiral staircase, visitors appreciate these secondary burial chambers, each decorated with its own geometric, anthropomorphic or zoomorphic designs. We spent a morning exploring the most easily accessible site at Tierradentro and had a chance to visit around 8 of these chambers, each differing in size, style and ease of access (note that not one is 'easy' to access). In the surrounding area there are other groupings of these tombs and some fabulous hikes can be made to the major tomb sites if spending a few days in the area.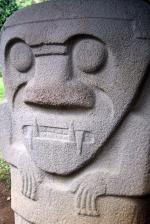 Feline anthropomorphic statue, San Agustín
From Tierradentro it was another 7 hour journey to San Agustín (again part of the way is along unpaved road). The small town is delightful and our stay coincided with the preparations for the Christmas nativity scenes, which were being placed all around town and the surrounding area. The archaeological park here is another UNESCO World Heritage Site, which contains the largest group of religious and megalithic sculptures in South America. These sculptures depict animals, mythical creatures and humans and many are over 4 metres tall and date back to 100AD.
We also visited the famous Magdalena river at the point where it passes through a narrow gorge.
For me and much of the group, this south-western corner of the country was a highlight of our trip. Yes, distances between places are long and road conditions could be better in parts, but the scenery is stunning and the archaeological parks quite unique (and I've been to a fair few in Latin America!). Tierradentro in particular is seldom visited and it is rare these days to have a site to oneself. For those looking to get off the beaten path I would highly recommend this area of the country (and read some magical realism before you go, just to get in the mood).
www.lastfrontiers.com/colombia/regions/popayan-and-san-agustin
Our 'Cultural Colombia' itinerary visits all of these areas: