I know it is only a couple of months since our last newsletter, but with the Game Fair looming (see below) we thought it was timely to send another!

In this issue:
Wildlife in Northern Argentina and the Brazilian Pantanal
Mexico: Copper Canyon, whales, and kayaks
Guyana: Jungle and Jaguars
Fishing news
Ecuador's Jungle Lodges
Riding in Argentina and Chile
Wildlife in northern Argentina and the Brazilian Pantanal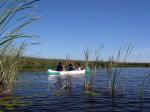 The Iberá
Sue has just returned from Argentina & Brazil checking out the wildlife and amazing birdlife. Here she is in Argentina:
"First stop was Aguape Lodge, on the shore of the Iberá Lagoon, northern Argentina. Iberá is a native word meaning 'brilliant waters' and is one of the largest wetlands in the world. The reserve is an immense ecosystem composed by a mosaic of marshes, grasslands and woodlands that provide shelter to a great diversity of birds and mammals - a paradise for birdwatchers as there are over 350 species. The lodge, on the shore of the Iberá Lagoon, has 12 traditionally decorated rooms and a private pier. The canoe and boat excursions were excellent - lots of Capibaras, Alligators and wonderful birds (who even joined us at breakfast!). We went walking, accompanied by a naturalist guide, riding and were really well looked after."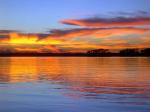 Sunset in the Pantanal
and here she is a few days later, in Brazil:

"To visit the Pantanal was a dream come true and lived up to all expectations. Posada Rio Mutum, on the Mutum River has 16 rooms, a swimming pool and private pier. The Pantanal is the largest freshwater wetland in the planet and is ever-changing. Our guided excursions by boat, horse, specially adapted vehicle and on foot gave us an amazing insight into the area. This is again a birdwatcher's paradise. We were joined by toucans and macaws in the gardens, monkeys swung through the trees, alligators covered the river banks, giant river Otters were spotted and capibaras grazed on the shore around the lodge. We enjoyed wonderful sunsets, tried our hand at Piranha fishing and enjoyed several Caipirinhas - great!"
Mexico: Copper canyon, whales and kayaks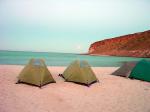 Beach camping
Meanwhile, Ed 'Edinho' Miles was in Mexico:

"I flew to La Paz in Baja California, the famous and now protected breeding ground of the grey whales, almost hunted to extinction during the last century. The following morning, we made our way to Magdalena bay, where a short boat ride took us to a seasonal whale-watching camp nestled amongst sand dunes and the luxuries of 'upgraded camping' – large fixed tents, cots (with pillows) and an impressive dining tent. Each morning we journeyed into the waters of the lagoon, to spend time amongst countless whales, many coming right up to the boat, and also encountered a whole host of other marine life, from sea-lions and endangered turtles to the occasional shark.

After 3 days of feeling queasy behind the lens of a camcorder (never to be repeated) and taking endless photos of what now appear to be rocks, we then took a boat across the Sea of Cortez to the island of Espiritu Santo for a spot of kayaking. Golden beaches, mangrove swamps, turquoise waters, snorkelling with the sea-lions, so the hardship continued... Each day we camped on the shores of isolated beaches, to be woken each morning by the sounds of lapping waves, before heading off to explore more isolated coves of this national park – truly breathtaking.

The final part of the trip took me into Mexico's world renowned hiking Mecca of the awesome Copper Canyon. From the picturesque colonial town of El Fuerte, we took the famous train ride through mountains, gorges and tiny villages into the canyon to begin the hike from Urique. The three day trail followed an ancient Tahumara Indian path 'El Camino Real' high into the mountains. The going was fairly tough, more for the heat than distance, but the views were truly spectacular, with not another hiker to be seen on the whole trail. The camping was basic, though the food surprisingly good thanks to our mule caravan, and the fresh lemons and grapefruit we were also able to pick from the farmsteads where we camped each night – excellent for a whole variety of ball games. However, the highlight of the whole trip (apart from lemon cricket) was nicely timed for our final day when we stumbled across (thankfully not into) the canyon proper, a vast thousand metre drop straight down towards the river below. The view was awe-inspiring and on such a scale that it took me several minutes before I thought to reach for my cameras - not that any photos (nor even words) could even begin to do the Copper Canyon any justice."

More on Mexico in our new brochure, due out later this year..
Guyana: Jungle and Jaguars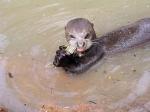 Giant river otter
Last month I was lucky enough to escort a small group of intrepid tour operators into the pristine jungles of Guyana. This was my first visit (I can't think why) and I loved it. I will take away several lasting impressions: the interaction with the schoolchildren at Surama village (all of whom speak English) and the sound common sense shown by their parents in setting up one of the best community tourism projects I have ever seen; seeing Diane McTurk with two of the orphaned giant river otters she is training for their return to the wild; and the morning mist over the river Essequibo from Shanklands Rainforest Lodge; and the friendliness and openness of everyone we met. I have now written some text and uploaded some photos which you can see here

www.lastfrontiers.com/guyana/
Fishing news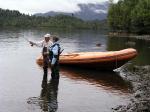 Near Futa Lodge
We have just heard that Nervous Waters (who operate the best sea trout lodges in Tierra del Fuego), have bought Jim Repine's lodge on the Futaleufu river, just over the Chilean border from Esquel (lake district). At the moment there are just 3 rooms, the area is stunningly beautiful, and so it is a fine option if one of you doesn't fish.
Ecuador's jungle lodges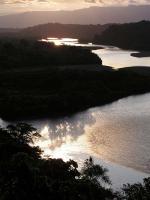 Sunet over the Napo
Late last year I was lucky enough to visit two of Ecuador's more unusual jungle lodges, Kapawi and Yachana. While others (such as the new Napo Wildlife Centre mentioned by Alison is the last newsletter) may be better from a pure wildlife point of view, these two both offer a real chance to see how the native communities live, and to begin to understand their daily challenges.

At Kapawi, guiding is carried out by a bilingual Ecuadorean guide and an Achuar guide (who are normally trilingual in Achuar, Quichua and Spanish). There are a variety of excursions on offer: various interpretative jungle trails, night hikes, early morning birdwatching tours, sunset boat trips, and visits to the local Achuar 'communities'. There are 5-6 of these (normally) family groupings involved in the project, and visits are carefully arranged to minimize any possible impact. Visitors will normally get an idea of how their life is led, visit their chacra, or vegetable patch, and be offered a small selection of reasonably priced handicrafts. It is intended that Kapawi will be handed over completely to the Achuar in 2011.

Yachana (which means 'a place for learning' in Quichua) was started as a result of the work of Funedesin, a not-for-profit organisation founded in 1986. Funedesin helped unite 35 communities of disparate religions, and today they collaborate with various projects, the first of which promoted education and health.

All profits from the lodge are ploughed back, so everyone who stays there contributes. The main projects are:

The Clinic - the communities donated the labour and materials while Funedesin provide skills and (with other donors) specialist equipment. A nominal charge is made for medicines (so they are valued) and a doctor is available 7 days a week. All communities (most of whom are linked by radio) are visited on a rotation, to give first aid training.

Education - Funedesin provides fuel so that children from further communities can reach the schools.

Yachana Gourmet - cacao and coffee produced locally are bought at a fair price. The cacao is processed as far as possible locally and then sent to Quito, where it is packaged and sold as crunchy chocolate. Funedesin provides agronomists and helps breed the right plants for use by the communities.

Ceramics/crafts - a typical house has been built upstream from the lodge, where guests can see how local pottery is made (the production is sold in the shop).

Capibaras - a small herd of capibaras is being bred to see if they can be used to supplement the local diet and decrease dependence on hunting and cattle.
Riding in Argentina and Chile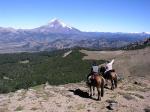 Overlooking Lanin volcano
In March I went to Argentine Patagonia and Estancia Huechahue for I think the best ride I have ever done. Ten days of varied terrain (plenty of cantering in Argentina, monkey puzzle trees on the border, towering volcanoes, and forest and lakes in Chile). This would be a perfect trip for a group of 6-8 friends, all of whom ride confidently. The horses were very good, tents comfortable, and food outstanding. The ride was the idea of Jane Williams (Huechahue's owner), with whom we have worked for many years, and is finally possible because she has found a Chilean partner whom she can trust.

There are some photographs here which say more than any of my words..
Finally, we have a stand (number D328) at the Game Fair (at Blenheim 23-25 July). It would be lovely to see you there.

With best wishes from Edward (and the rest of the Last Frontiers team, deep in discussion about our new brochure!)