Amazonian jungle lodges and indigenous communities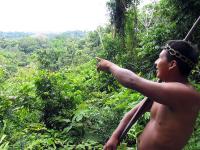 Stretching from the eastern Andes to the Peruvian border, the Oriente is a vast area of lush tropical jungle covering part of the upper Amazon basin, still populated almost exclusively by indigenous communities. For wildlife enthusiasts there are several excellent jungle lodges, and access to almost all involves a short flight into the jungle and a river transfer.
Several communities are leading the way in showing how involvement with tourism projects can benefit them and help safeguard both the future of the rainforest and their way of life.
Our preferred accommodation

means that the hotel is one of our Dream Destinations.
Lodge/Hosteria - Amazon

2 hours downstream of Coca on the north side of the Rio Napo, overlooking a lake in a mixture of primary and secondary forest. It sustains a private butterfly farm, biology field station and 135-foot observation tower. There is a bar, dining room and reading room.

Lodge/Hosteria - Amazon

In Yasuní National Park, 2 hours by boat and 1 hour by canoe from Coca, Napo is set in an 82 square mile nature reserve. It is the only lodge on the relatively undisturbed south bank of the Napo river, where there is a particularly high concentration of bird and animal species. The lodge is based on a conservation partnership with the local Kichwa Añangu community. The dining room overlooks Añangu lake, and there is a library, bar and shop. On a clear day you can see the Andes from the 131-foot ecological tower, which was built using palm leaves, bamboos and other local materials.

Lodge/Hosteria - Amazon

2 hours by motorised canoe from Coca, the lodge is set within a 2,000 hectare ecological reserve. It has both indoor and al fresco dining, a covered al fresco lounge area overlooking Pilchicocha lake, a bar and small shop. There is a 135-foot jungle observation tower and a private butterfly farm.