In early December I was lucky enough to be invited onto the brand new Mountain Lodges of Peru (MLP) 'Lares Adventure' to Machu Picchu. After the success of MLP's Lodge to Lodge Salkantay Trek (which follows the classic Salkantay trail through the mountains to Machu Picchu - staying in comfortable lodges each evening), they decided to put together something similar in the Lares Valley, famous for its Quechua communities, strong weaving traditions and beautiful scenery.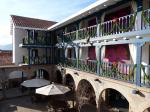 El Mercado in Cusco
The adventure began in Cusco at Hotel El Mercado, which is owned by Mountain Lodges of Peru and as the name suggests, decorated in the style of an Andean market. It is essential to have a couple of nights in Cusco beforehand in order to acclimatise as some of the passes in the Lares valley are over 4,000m (Cusco is 3,300m). The evening before the trek began we were introduced to our guides and had a briefing in the hotel so we knew what to expect over the next 7 days (MLP operate two Lares treks - a 7 day and a 5 day option).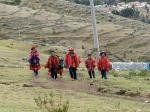 School children in their traditional outfits
Like the Salkantay trek, group sizes are small - there were just 16 of us and a real mix from serious trekkers to those more used to walking back from the shops or the pub than through the Andes. This wasn't a problem though - unlike other treks, the MLP Lares Adventure offers a choice of activities each day (chosen the night before) which are tailored to all abilities.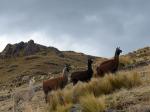 Posing alpacas on the walk to Pisac
Each day the activities were classified into three groups - 'cultural', 'semi-active' and 'active'. We could mix and match what we chose throughout the trek and at the end of each day we would all get together and talk about what we had done. I think it was a good sign that no matter what activity somebody had chosen, they were always adamant it was the best!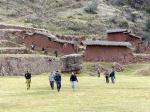 Walking through Huchuy Qosqo
The cultural activities did still involve some trekking, but were often built around a visit to a local market, Inca site or even a cookery class with one of the Andean communities in the area. For those who wanted to feel that they had really earned their dinner (which was always delicious - as were all the meals on the trek), the 'semi-active' and 'active' programs were a good fit, with typically 4-8 hours of trekking each day. It should be said that even the more active programs still included a cultural element - often visiting markets and ruins (including lesser known, but still impressive sites such as Huchuy Qosqo and Ancasmarca).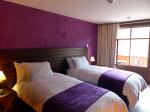 Bedroom at Huacahuasi
It's not only the choice of activities and trekking that differentiates MLP 'Lares adventure' from other treks, you also get a proper bed each night. Like their Salkantay trek guests stay in lodges (one lodge is in Lamay and the other is in Huacahuasi) and have the luxury of private bathrooms, hot water and even wi-fi (!). The lodges are built using local materials and are designed to reflect the environment and surroundings - they even employ locals from the villages, who are being trained in tourism and hospitality.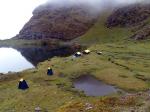 Lunch tents by Quelwacocha lake.
All of the MLP staff and lodges were wonderful, but it really was the scenery and people in this part of Peru that made it such a special experience. The route follows a series of Inca trails through mountains, glaciers and high altitude lakes. Along the way it wasn't uncommon to come across a field of grazing alpacas or villagers in their traditional dress, tending to their crops or weaving their brightly coloured textiles.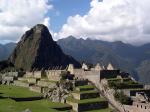 The trek ends at Machu Picchu
Our adventure ended in fitting style, at the Inca Citadel of Machu Picchu. Unlike the 'original' Inca Trail you don't trek into the ruins through the Sun Gate - instead we boarded the train from the town of Ollantaytambo to Aguas Calientes, where the night is spent at Inkaterra Machu Picchu before visiting the ruins the following day.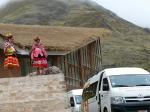 Our welcome party at Huacahuasi lodge
The MLP Lares Adventure had been a wonderful experience - a combination of stunning scenery, rich culture and remarkable Inca sites. I was amazed at the flexibility of the whole program, which would suit most abilities, making it perfect for families or groups where not everybody is quite so serious about trekking. The lodges were very impressive too - gone are the days when trekking in remote areas meant pitching a tent, carrying a sleeping bag and drying out your shoes each morning. Now you can relax in the hot tub after a hard day and upload your pictures using the wi-fi!