As an adventure-seeker and outdoor enthusiast, Costa Rica has long been on my list of places to explore so when the opportunity arose to visit in April, I jumped at the chance. What began as a 10-day trip soon became almost 3 weeks when my flight home got overbooked and I had to stay a bit longer - what a chore! I travelled the entire length of the country, from the Papagayo Peninsula on the north Pacific coast, all the way to the Osa Peninsula in the south. I even ventured into Panama for a few days and though I could easily write about all of the places I visited, I have narrowed it down and selected my top three.
Pacuare Lodge - Central Highlands, Costa Rica
Nestled in 340 hectares of serene tropical wilderness, Pacuare lodge somehow manages to combine adventure, minimalism and sustainability, with comfort and luxury. It is far more than just a nice lodge; it is a unique experience where almost everything including guests, arrive by raft! Of course, for those whose idea of fun does not involve tumbling down rapids in an inflatable boat, there is also the option to travel overland or even via helicopter.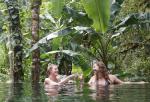 Each beautifully-designed villa overlooks the well-kept gardens or river, is private and secluded and decorated with handicrafts made by the Cavecar communities that are indigenous to the area. I had my own private plunge pool overlooking the river, an indoor and outdoor shower, and bathtub with a view of the jungle. The only downside was not having enough time to use them all! The lodge offers a variety of activities, from soothing spa treatments to more adrenaline-fuelled tours such as zip-lining and canyoning. I spent a morning abseiling down waterfalls, followed by an afternoon in the spa getting a much needed massage! I can honestly say that I had absolutely no urge to leave this place, but at least I had the excitement of 4 hours rafting to entice me away.
Pacuare Lodge: www.lastfrontiers.com/hotels/costa-rica/the-central-highlands/pacuarelodge
Playa Cativo - Osa Peninsula, Costa Rica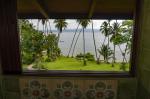 The journey to reach Playa Cativo much like Pacuare Lodge, is all part of the experience. From San José I took a 1 hour scenic flight in a 15-seater propeller-plane to Golfito. The scenery was spectacular as we passed over the famous 'Whales Tail Beach,' vibrant rainforests and the sapphire blue waters of the Golfo Dulce. From the airstrip it was a further 30 minutes by boat to reach the remote and secluded bay where Playa Cativo sits.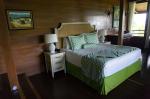 It was obvious from the moment that I arrived that it was going to be a special place. I was greeted on the beach by a fleet of smiling staff members, and within minutes I had spotted a pair of colourful toucans in the trees above me. The simple but stylishly decorated guest rooms are constructed from dark hardwood, have large open-air windows and are clearly designed with nature in mind. Waking up to a view of the ocean and a rainforest symphony is hard to beat.
The pinnacle selling point for me was the array of wildlife I saw, and the knowledge of the guides. On a boat trip, I witnessed a pod of over 100 dolphins and numerous Mobula rays playfully leaping from the water. I watched the sunset across the bay and after dark, was amazed by the illuminating algae twinkling with each wave that hit the sides of the boat. It was just like the Life of Pi. On the rainforest trails I spotted sloths, monkeys, iguanas, Halloween and many, many more. I cannot fault it from start to finish, apart from the aftermath of some serious sunburn!
Playa Cativo: www.lastfrontiers.com/hotels/costa-rica/the-osa-peninsula/playa-cativo
La Concordia Boutique hotel - Panama City, Panama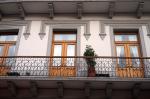 Whilst I would not class myself as a 'city girl' there is something about Panama City that draws me in. The old world charm of Casco Viejo is met by the contrasting skyscrapers of downtown on one side and the Panama Canal on the other, and yet nothing seems out of place!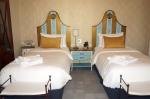 If like me, exploring cobblestone streets, admiring colonial architecture and hopping between trendy bars and restaurants is what you enjoy in a city, then I can't think of anywhere better to be based than Casco Viejo. I had the pleasure of staying at La Concordia Boutique hotel, on the outskirts of Casco Viejo with a rooftop bar and panoramic views of the city's skyline. The guest rooms are sumptuously decorated with glistening chandeliers and Moroccan tile floors, and each has its own balcony. The owners (a brother and sister from Spain) were so friendly and welcoming that I instantly felt at home. Plus there is a cosy cocktail bar just across the street called 'The Strangers Club' which is perfect for a late night beverage.
In addition to its prime location and beautiful décor, the hotel also has a fascinating history and in past lives has housed a cigar factory, a school, a pharmacy, and the Mexican Embassy. At one point it even served as an imaginary barrier between the high-class neighbourhood of San Felipe, and the ghetto neighbourhood of Santa Ana where it was often unsafe to walk during the day (let alone at night). Thankfully things have progressed significantly since then and the once abandoned buildings of Casco Viejo have been restored to their former glory, and awarded UNESCO World Heritage status.
La Concordia: www.lastfrontiers.com/hotels/panama/panama-city/la-concordia
My time away went far too quickly but it provided a great overview of Costa Rica and Panama. For such small countries they have so much to offer, and as usual I have returned home with a million more places I'd like to explore in both.